Bitcoin Price Drops as Russia Attacks Ukraine – Explosions Heard in Ukrainian Capital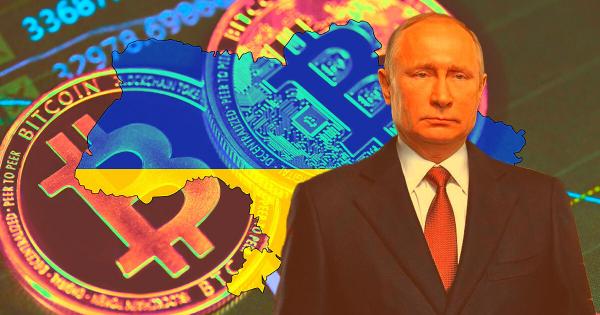 Bitcoin's price fell to $35,100 on Thursday from $43,110 the week before, as other major cryptocurrencies plunged as a series of explosions were heard in the distance before sunrise in the Ukrainian capitals, Kiev and Kharkiv, cities that are home to millions of Ukrainians. , reports ABC News on Thursday.
According to a Reuters report, in the early hours of Thursday morning, Russian President Vladimir Putin authorized a special military operation in Ukraine's Donbass region, ordering the Ukrainian military to lay down their arms and return home.
"I implore you to lay down your weapons now and go home. All Ukrainian army servicemen who meet this requirement will have the right to leave the combat zone and return to their families," Putin said.
After Putin finished speaking, a Reuters correspondent in Ukraine's capital Kyiv heard what sounded like artillery fire in the distance.
This is a developing story.
Ukrainian computer network attack drives down bitcoin price
Meanwhile, computer networks in Ukraine have been infected with new malware capable of wiping data from hacked devices, according to two cybersecurity firms with a strong presence in the region.
Symantec BV and ESET LLC have both reported detecting so-called erasing malware in attacks on Ukrainian networks, with ESET claiming the hacking tool has been installed on "hundreds of computers" in the country.
Vikram Thakur, technical director of Symantec's threat intelligence team in the United States, said the company has identified many groups targeted by the new wiper strain.
The wiper was also found in Latvia and Lithuania, Symantec said. It targets financial institutions and government contractors.
BTC price at $35,100 in the daily chart | Source: TradingView.com
Related Article | Bitcoin Price Falls as Russia-Ukraine Tensions Rise
Bitcoin suffers damage
As a result, Bitcoin's safe-haven narrative has almost "totally disintegrated" as the growing prospect of military confrontation and deteriorating US-Russian relations have placed the broader financial market in "doom-averse mode". risk," Yuya Hasegawa, crypto market analyst at Bitbank in Japan, says.
Cryptocurrencies in the market also felt the pinch of the dreaded invasion: Ether fell 1.5%, Cardano's ADA fell 4.5%, and XRP retreated 7%.
On Wall Street, stocks plunged on Wednesday as investors sought protection from the turbulence produced by the Ukraine crisis.
Related Article | Ukraine Crypto: Lawmakers legalize cryptocurrencies as fears of Russian attack grow
Investors are now pumping money into US government bonds, raising their prices and lowering their yields, which are moving in opposite directions.
Bitcoin proponents frequently portray it as a safe-haven asset comparable to gold, implying that it should serve as a store of value in times of uncertainty.
However, bitcoin's case as a form of "digital gold" has weakened as more and more institutional investors start trading it, and the price of the cryptocurrency is becoming increasingly tight. linked to traditional asset classes such as equities.
According to John Kicklighter, Chief Strategist at DailyFX, $39,500 is first level support for Bitcoin entering this week, "but $32,000 seems to be the threshold of no return."
Featured image from CryptoSlate, chart from TradingView.com