Breaking news from the war in Ukraine today: Russia 'raises real hell' as missile strikes continue overnight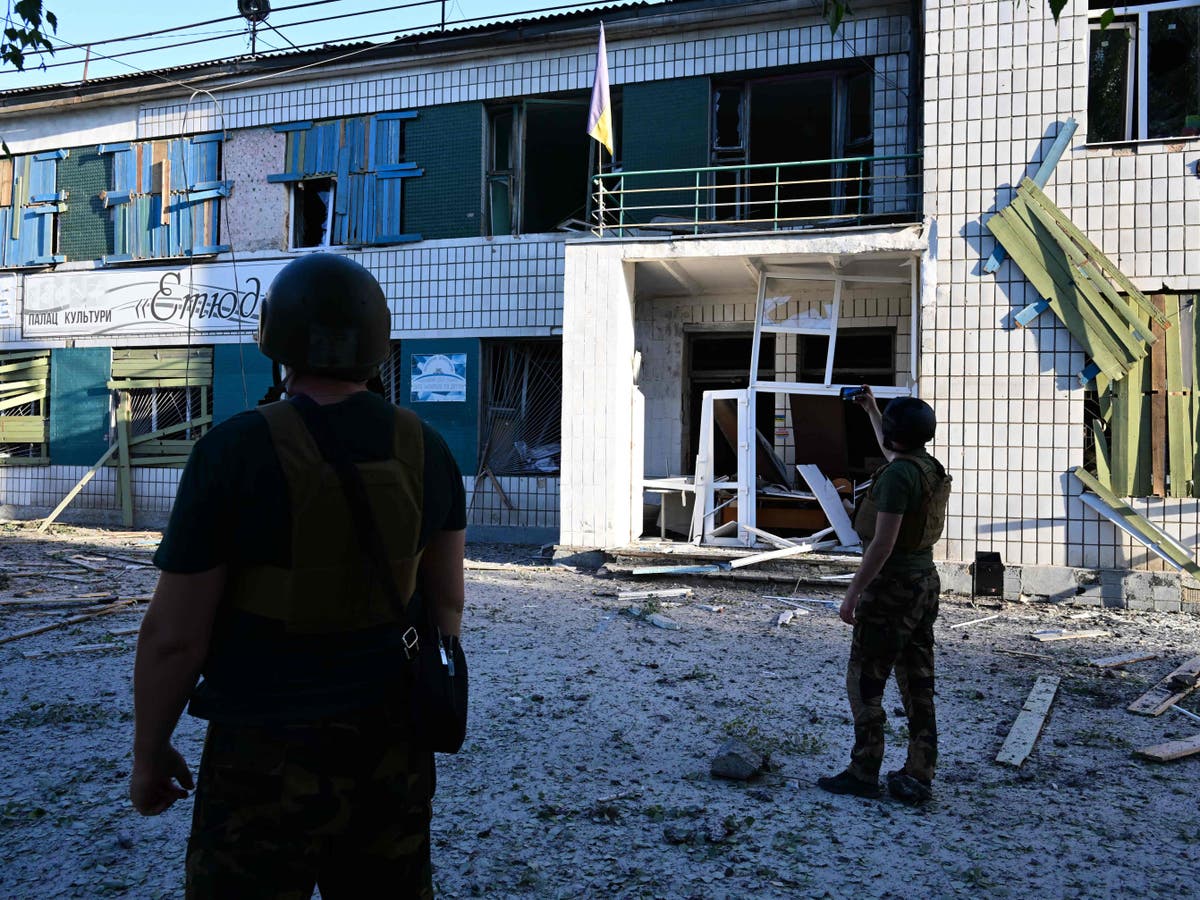 Heavy damage in Ukraine as Sloviansk is hit by Russian shelling
According to a local governor, Russia is creating a "real hell" in eastern Ukraine as deadly missile strikes hit the invaded country overnight.
Serhyi Haidai, who leads Luhansk province, said there had been "no operational pause" announced by Russian troops, who "continued to attack and shell…with the same intensity as before. ".
The governor said there were 20 artillery, mortar and rocket attacks overnight in his province, whose last major resistance stronghold was captured by Russia last week.
Deadly strikes continue to fall elsewhere as Ukraine continues to fight the invading Russian, which has now turned its attention to the East.
Five people were killed and eight others injured in Russian shelling Friday on Siversk and Semyhirya in Donetsk province, regional governor Pavlo Kyrylenko said on Saturday.
Meanwhile, Russian missiles reportedly killed two people and injured three others on Saturday morning in the southern city of Kryvyi Rih.
Ukraine has urged its allies to send more weapons to the country as its chief negotiator says a turning point in the war is beginning to take shape.
1657306627
The only way out: Volunteers saving Ukrainians from hell on the front line
To escape the areas most affected by the war, the most vulnerable Ukrainians depend on volunteers using buses to transport people to safety. Bel Trew joined one of these convoys in the Donbass.
The only way out: Volunteers saving Ukrainians from hell on the front line
To escape the areas most affected by the war, the most vulnerable Ukrainians depend on volunteers using buses to transport people to safety. Bel Trew joined one of these convoys in the Donbass
Joe MiddletonJuly 8, 2022 7:57 p.m.
1657395273
Zelensky fires several top brass overseas
Ukrainian President Volodymyr Zelensky sacked several senior Kyiv ambassadors abroad on Saturday, including the country's ambassador to Germany, the presidential website said.
In a decree that gave no reason for this decision, Zelensky announced the dismissal of Ukrainian ambassadors to Germany, India, the Czech Republic, Norway and Hungary.
It was not immediately clear whether the envoys would be assigned to new posts.
Zelensky urged his diplomats to mobilize international support and military aid for Ukraine as it tries to repel the February 24 Russian invasion.
Kyiv's relations with Germany, which is heavily dependent on Russian energy supplies and also Europe's largest economy, are particularly sensitive.
Andriy Melnyk, who was appointed by Zelensky's predecessor as ambassador to Germany in late 2014, is well known to politicians and diplomats in Berlin.
The 46-year-old regularly engages in candid exchanges on social media and has branded politicians and intellectuals who oppose arming Ukraine to fight the Russian invasion as appeasers.
He once accused German Chancellor Olaf Scholz of behaving like an "offended liverwurst" when Scholz did not immediately accept an invitation from Zelensky to visit Kyiv.
Kyiv and Berlin are currently at odds over a German-made turbine undergoing maintenance in Canada. Germany wants Ottawa to return the turbine to Russian natural gas giant Gazprom to pump gas to Europe.
Holly BancroftJuly 9, 2022 8:34 p.m.
1657389773
Pictured: Houses burn in Kostiantynivka after the Russian strike
Here are some additional photos after the cluster rocket attack:
Zoe TidmanJuly 9, 2022 7:02 p.m.
1657388093
What's behind the Russian invasion of Ukraine?
The Russian invasion of Ukraine continues to rage months after the first troops arrived.
Joe Sommerland looks back on his origins:
Why did Putin start the Russian-Ukrainian conflict?
Why did Vladimir Putin invade Ukraine?
Zoe TidmanJuly 9, 2022 6:34 p.m.
1657386274
Ukraine thanks US for military support
The Ukrainian Ministry of Defense thanked the United States for its recent military support program:
Zoe TidmanJuly 9, 2022 6:04 p.m.
1657384253
Probing crop destruction
Ukraine's national police said they were opening a criminal investigation into the alleged destruction of crops by the Russian military in the Kherson region of southern Ukraine.
In a Telegram post, he accused Russian troops of not allowing residents to put out fires in the fields and of otherwise sabotaging the harvest. "Due to the constant bombardments, it is extremely difficult to extinguish [field] fires in the unoccupied territories and in the occupied lands, the Russians deliberately do not allow fires to be extinguished," the police said.
Zoe TidmanJuly 9, 2022 5:30 p.m.
1657382573
Konstantinovka Cluster Rocket Strike
Russian strikes continue to fall on Ukraine in both directions.
On Saturday, cluster rockets hit a residential area in Konstantinovka, a town in eastern Donetsk Oblast.
Zoe TidmanJuly 9, 2022 5:02 p.m.
1657380773
ICYMI: Analysis Says Russia Could Soften Offensive – For Now
Foreign analysts have suggested that Russia could temporarily ease its offensive in Ukraine as the Russian military tries to muster its forces for a new assault.
Russia takes 'operational pause' in Ukraine, analysts say
Foreign analysts say Russia could temporarily water down its offensive in Ukraine as it tries to rebuild its forces for a fresh assault
Zoe TidmanJuly 9, 2022 4:32 p.m.
1657379114
Six injured in strike in Kharkiv
Officials said six people were injured in the rocket attack on Kharkiv on Saturday, including a 12-year-old girl. "An Iskander ballistic missile was likely used in the strike," the city's regional prosecutor's office said.
"One of the missiles hit a two-story building, which resulted in its destruction. Nearby houses were damaged.
Zoe TidmanJuly 9, 2022 4:05 p.m.
1657374792
Moscow "rubs its hands of joy" with the departure of Boris Johnson
"The clown is leaving," said Vyacheslav Volodin, the speaker of the Russian parliament after the fall of Boris Johnson. "He is one of the main ideologues of the war against Russia to the last Ukrainian."
Kim Sengputaour global affairs editor, examines how political instability in the UK can play out on the world stage:
Moscow 'rubs hands with glee' over Johnson's departure and 'will exploit it'
Boris Johnson now heads a Potemkin government – a false and hollow structure – which makes him vulnerable in uncertain times, writes Kim Gupta, global affairs editor
Zoe TidmanJuly 9, 2022 2:53 p.m.