Chaotic exit from Afghanistan offers lessons for Ukraine crisis, lawmakers say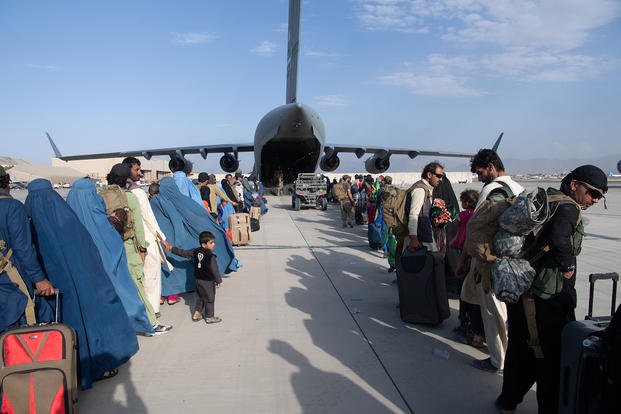 The US's disorderly exit from Afghanistan could offer lessons as the United States prepares for the possibility of Russia trying to lay further claim to Ukraine, senators said Wednesday.
Lawmakers from the Senate Armed Services and Foreign Relations Committees outlined the parallels as they walked back and forth from a closed-door briefing with Secretary of Defense Lloyd Austin and Secretary of State Antony Blinken.
The briefing was called to discuss Afghanistan, but was overshadowed by the latest foreign policy crisis facing the United States: Just as the briefing began, the Pentagon announced that 2,000 troops would deploy in Europe to reassure nervous NATO allies as Russia threatens Ukraine.
Read more : At least 1 million vets could get VA healthcare under proposed reduced exposures bill
"I think there's a common theme in making sure we're all well-prepared and engaged in decision-making," Sen. Chris Coons, D-Del., said of the comparisons between the situations in Afghanistan and Ukraine.
Lawmakers from both parties have hammered the Biden administration for its lack of preparedness to evacuate American citizens and Afghan allies during the military pullout from Afghanistan, even as the Taliban has won province after province.
Mass evacuations of civilians by the US military in Afghanistan did not begin until the Taliban took control of Kabul, and even then the operation was marred by chaos, including an incident where Afghans hoping to be rescued clung to a US military transport plane. died as the plane climbed.
Republicans are calling on the administration to prepare in case it needs to evacuate US citizens and others with US connections from Ukraine – as it did in Afghanistan.
"I don't want them to be surprised in a few weeks, with the same disaster playing out in Ukraine, and God forbid, in a month, instead of images of Afghans clinging to the wheels of planes taking off from Kabul, we are watching the images of Americans or Ukrainians clinging to the wheels of planes taking off from Kiev because there are Russian tanks in the streets," Sen. Ted Cruz, R-Texas, said Wednesday. . "This administration should not come back and say once again how surprised they were at how badly things went."
The Biden administration is touting the evacuations as a success, as more than 124,000 people have been airlifted. But thousands of Afghans who served as interpreters for the US military, along with their family members, remain stuck in Afghanistan with no clear plan to get them out as the Taliban hunt them down.
Now, with Russia mustering what Western officials say are more than 100,000 troops near its border with Ukraine and the Biden administration warning that Russia could invade at any moment,
Coons, a close ally of President Joe Biden, said a US military evacuation from Ukraine like what happened in Afghanistan would not be possible.
"We won't be able to conduct an evacuation from Ukraine like what happened in Afghanistan," Coons said. "We don't have a big air base, we don't have decades of experience, we don't have any control over the ability to get in and out of the country."
Still, Coons said Americans in Ukraine should learn a lesson from Afghanistan.
"I hope the lesson people can take from Afghanistan is that when the United States Department of State sends you an email or a phone call or a text message saying, 'We urge you to leave now ", you have to because things can unravel quickly," he said.
Asked last week if US troops could help evacuate Ukraine, Austin told reporters that "we are preparing for a range of activities and options", while the president of the heads of state- Joint Maj. Gen. Mark Milley emphasized the State Department's warnings for the United States. citizens to leave.
Insisting that State Department advisories in Afghanistan did not preclude the need for a military evacuation, Milley added, "That is also correct."
Sen. Richard Blumenthal, D-Conn., who for months has called on the administration for clearer plans to help Afghans still stranded in Afghanistan, said after Wednesday's briefing that he was still "downright upset with the lagging efforts to evacuate Afghan allies".
Asked about the parallels between Afghanistan and Ukraine, Blumenthal, who was recently part of a congressional delegation to Ukraine, said: "What I encountered was a reliance on states United and continued confidence in our leadership.
"They're counting on us to show them in action, not just in words, that we'll be on their side, and the need to show that kind of leadership. [is] bigger than ever," Blumenthal added.
The United States is deploying about 2,000 troops to Germany and Poland, while another 1,000 troops already stationed in Germany will head to Romania, the Pentagon said Wednesday.
Republicans gave the Biden administration lukewarm praise for the announcement, but still question whether enough is being done to deter Russian President Vladimir Putin.
"We've been talking for a long time about the president taking action like this, and he hasn't," Jim Inhofe, R-Okla., a member of the Senate Armed Services Committee, said Wednesday. "Then I welcome it, but let it be too late."
The entire House and Senate are also to be briefed on Ukraine Thursday by Austin, Milley, Blinken and Director of National Intelligence Avril Haines.
— Rebecca Kheel can be reached at [email protected] Follow her on Twitter @reporterkheel.
Related: US deploys 3,000 troops to Europe to counter Russian threats to Ukraine
Show full article
© Copyright 2022 Military.com. All rights reserved. This material may not be published, broadcast, rewritten or redistributed.