Filipinos flee Ukrainian capital under threat of Russian invasion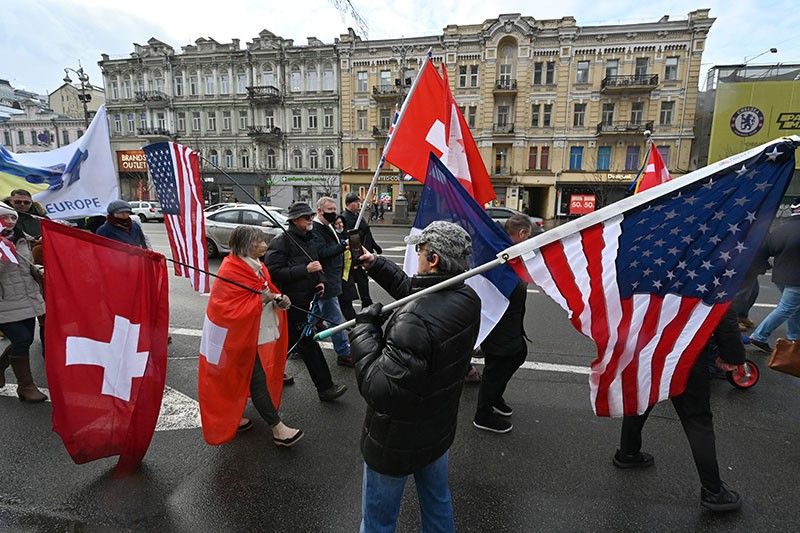 February 15, 2022 | 12:23 p.m.
MANILA, Philippines — Some Filipinos have fled the Ukrainian capital of Kiev amid the looming threat of a Russian invasion of the former Soviet state, feared by Western intelligence officials on Wednesday.
Shirley Santosildes, head of United Filipino Global in Ukraine, told the ANC's "Rundown" on Tuesday that some Filipinos have headed nearly 500 kilometers west of Kiev to the city of Lviv, where a number of Foreign governments, including the United States, moved their embassies in light of the conflict.
"Lviv is the safest place we can go. So far, some Filipinos are already there," Santosildes said in Filipino.
Santosildes, however, remains in Kyiv because the school she teaches at assures her that a Russian invasion will not happen, despite Moscow's continued gathering of troops on its border with Ukraine.
"Any political propaganda"
"We always work offline, face to face. Our school has still not been ordered to leave. They tell us not to worry, that nothing like this will happen and it's just political propaganda," she said.
She added that the Filipino community in Ukraine regularly meets with the Philippine Embassy in Poland, which offers free flights to Manila. About eight Filipinos have so far taken advantage of the free flight home, Santosildes said.
Unlike the UK, US, Canada, South Korea and Japan who have all called on their nationals to leave Ukraine as tensions continue to mount, the Philippines has yet to issue a similar opinion of some 380 Filipinos living in the Eastern European country.
The Philippine Foreign Ministry said on Saturday that most Filipinos living in Ukraine were in Kyiv, which is "far from the eastern border near Russia."
Filipinos are "encouraged to contact the Embassy, ​​report any untoward incidents they may observe in their respective areas, and continue to monitor their Filipino friends through social media."
Why is there conflict?
Ukraine was long part of the Russian Empire for centuries before becoming a Soviet state and then becoming independent after the fall of the USSR in 1991. Since then, it has moved closer to the West.
The current conflict is a continuation of Russia's annexation of Ukraine's Crimean peninsula and its support for a separatist rebellion in eastern Ukraine in 2014, in response to Viktor Yanukovych's ousting in as Ukrainian president because of his rejection of an association agreement with the European Union in favor of a rapprochement with Moscow.
Ukraine, under the administration of comedian-turned-president Volodymyr Zelensky, sought help from the West and wanted to join the North Atlantic Treaty Organization, a military alliance of 30 states.
These moves angered Russia under the leadership of Vladimir Putin, who ordered troops and military equipment to assemble near its border with Ukraine.
Russia appeared to open the door on Monday to a diplomatic resolution of the deepening impasse in Ukraine, as the United States said it believed Putin had not yet made a final decision on the invasion. of the Eastern European country.
While Russia said it was ending some military exercises, signaling a possible easing of the crisis, in Washington the level of alert remained high – with one senior official calling the threat of invasion "more real than never". — with Anna Smolchenko and Dmitry Zaks/AFP
As it happens
LAST UPDATE: February 15, 2022 – 1:00 p.m.
President Vladimir Putin said he hoped Moscow and the West could find a solution to Ukraine's raging security crisis, but also accused Washington of using Kiev as a "tool" against Russia.
"I hope that in the end we will find a solution, even if it will not be easy," Putin said, indicating that he was ready to continue talks with the West, which accused Moscow of massaging more than 100 000 troops at the border and plotting to invade Ukraine.
"It seems to me that the United States is not so concerned about the security of Ukraine…but its main task is to contain the development of Russia," Putin said. — AFP
February 15, 2022 – 1:00 p.m.
Japanese Prime Minister Fumio Kishida will meet with Ukrainian President Volodymyr Zelensky later on Tuesday, local media reported, as Tokyo expressed "serious concerns" about the risk of a Russian invasion.
Kishida said on Tuesday that Japan "is watching the situation with grave concern."
"We will continue to monitor the situation with great vigilance, while coordinating closely with G7 countries to address any developments as appropriate," he told a meeting between government ministers and the ruling Liberal Democratic Party. — AFP
February 14, 2022 – 08:53
Ukrainian leader Volodymyr Zelensky invites US President Joe Biden to visit Kiev to show Washington's support in the face of a feared Russian invasion.
"I am convinced that your visit to Kyiv in the coming days … would be a strong signal and help stabilize the situation," the presidency, quoting Zelensky, told Biden in a phone call earlier Sunday.
Washington made no mention of an invitation in his reading of the 50-minute call. — AFP
February 13, 2022 – 08:47
A Saturday call between US President Joe Biden and his Kremlin counterpart Vladimir Putin brought no major change to the standoff over Russian troops massed near Ukraine, a senior US official said.
The call was "professional and substantive and lasted just over an hour. There was no fundamental shift in the dynamic that has been unfolding now for several weeks," the official said, citing a anonymity, to journalists. — AFP
February 8, 2022 – 7:04 p.m.
French President Emmanuel Macron said he had managed to convince Russian President Vladimir Putin not to "aggravate" the crisis around Ukraine as the West warns that Moscow may be planning an invasion.
"I got there to be no degradation or escalation," Macron told reporters upon arriving in Kyiv for talks with the Ukrainian leader. — AFP
February 8, 2022 – 08:27
French President Emmanuel Macron told his Russian counterpart Vladimir Putin on Monday that he hoped the talks in Moscow could lead to an easing of tensions over Ukraine.
"This discussion can initiate the direction in which we need to go, which is towards de-escalation," Macron said at the start of the meeting in Moscow.
He adds that he hopes to "avoid a war" and "build elements of confidence, stability and visibility for all". — AFP