French, German leaders back Biden-Putin talks on Ukraine crisis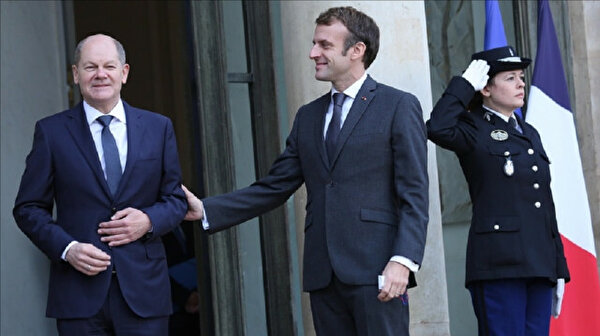 French President Emmanuel Macron and new German Chancellor Olaf Scholz on Friday supported ongoing talks between US President Joe Biden and Russian President Vladimir Putin aimed at resolving the escalating Ukraine crisis.
"It is really very useful that President Biden has had discussions with President Putin. Our common will is that we continue this dialogue (on Ukraine) between Putin-Biden," Macron said at a conference. joint press with Scholz in Paris.
"We want stability in the region and not escalation. The first objective should be to avoid unnecessary tension. We are keeping an eye on the situation, but there should be no escalation. It is about stability and sovereignty of Ukraine, "he added. he added.
Macron's words were echoed by Scholz, who said: "We are all very concerned about the situation on the Ukrainian border. It is quite obvious that there are a lot of soldiers to see and so it is only fair that this is now being discussed. all over. It is a good thing that the US president has continued a conversation with Russian presidents on this matter.
On Wednesday, Putin called the online meeting with Biden "open, substantial and constructive" amid Western concerns that Russia's military build-up near the Ukrainian border was a prelude to a major invasion.
But Putin also pointed to the difficulties ahead: Russia's demand that Ukraine not be considered a NATO member – a position NATO officials have repeatedly stressed they don't would not accept.
"We can continue this dialogue. It seems to me that this is the main thing, "Putin said.
In Washington, Biden said on Wednesday that putting more US troops in Ukrainian territory was "not on the table."
The United States currently has troops in Ukraine for training purposes.
Meanwhile, Macron and Scholz have expressed their continued willingness to also help mediate the Russian-Ukrainian conflict as part of the so-called Norman format that brought together the leaders of Ukraine, Russia, the 'Germany and France to help end the conflict in eastern Ukraine. between Kiev forces and pro-Russian separatists.
In 2014, Moscow began supporting separatist forces in eastern Ukraine against the central government, a policy it has maintained for seven years.
For the second time this year, Moscow concentrated a significant number of troops in and around Ukraine last month.