Gas prices could skyrocket if Russia invades Ukraine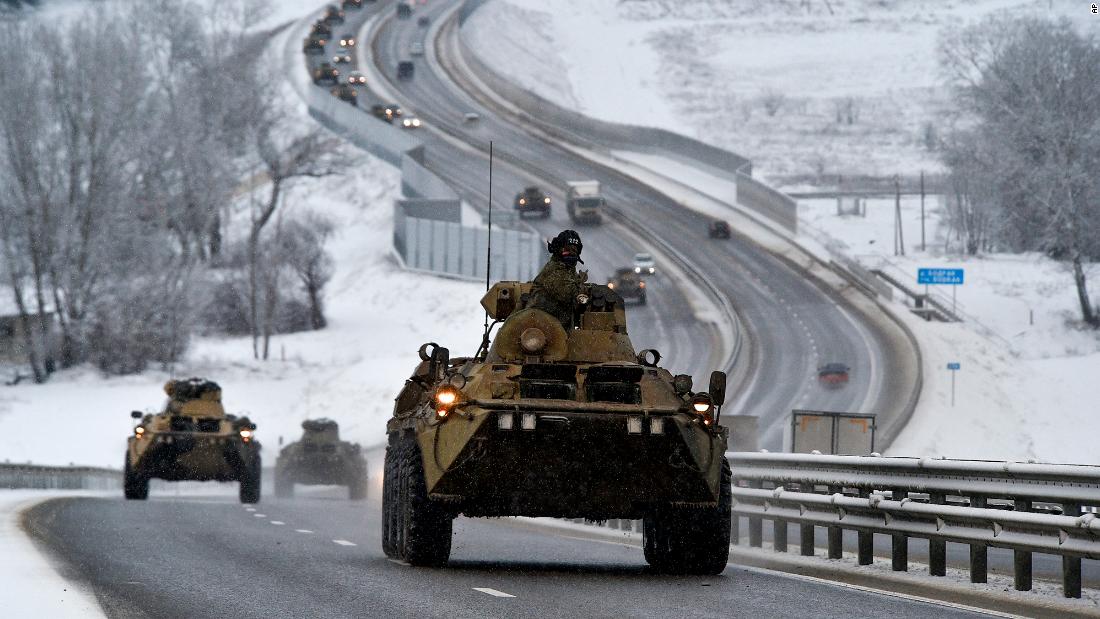 Investors would buy first and ask questions later.
"There is a very good chance that we will reach $100. This is going to be inflationary with an exclamation mark," said Robert Yawger, director of energy futures at Mizuho Securities. "We don't need that at all. We can't afford that at all. »
A conflict between Russia and Ukraine would drive up gas prices, the head of the International Energy Agency said on Thursday.
"Such a huge geopolitical event [have] major implications on gas prices, even unrest," IEA Executive Director Fatih Birol told CNNI's Julia Chatterley on First Move.
'All bets are off'
It is impossible to say how high prices would rise and how long they would stay high. But $100 oil would surely drive up prices at the pump. And that means a Russian-Ukrainian conflict has the potential to impact most Americans.
Gasoline prices, which move with a lag relative to oil, have already started to climb in recent days. The national average hit $3.32 a gallon on Wednesday, up from a recent low of $3.28, according to AAA.
"If there is a war with Russia, then all bets are off," said Claudio Galimberti, senior vice president of analytics at Rystad Energy.
Oil prices have risen sharply this week and analysts say concerns over a Russian-Ukrainian conflict contributed to the gains.
"The market has been very slow to appreciate the risks of an invasion," said Helima Croft, head of global commodities strategy at RBC Capital Markets. "Putin is not really a bluffer. He is known to back his words with actions.
White House talks to energy companies and countries
All of this underscores the predicament the White House finds itself in, economically, politically and of course from a national security perspective.
Inflation is already a major political and economic issue for President Joe Biden. The recent rebound in gasoline prices threatens to further aggravate inflation. And $100 worth of oil in a Russian-Ukrainian conflict would only make things worse.
"Whatever we decide is the right course for our collective interest and our security," a spokesperson for the National Security Council told CNN in a statement, "we are prepared to impose significant costs on the Russian economy, including its financial system and sectors deemed critical to the ambitions of the Kremlin and President Putin – while minimizing unwanted fallout.
That last part – mitigating the impact – could be tricky.
A senior administration official told CNN that officials are taking contingency planning very seriously "to ensure we are prepared to mitigate any impact and assess potential fallout." This contingency planning, the official said, includes conversations with energy companies and countries.
The administration official added that the White House has been "very clear" about how it would react to an invasion and "that should already start to price in the markets."
Natural gas prices could soar
Europeans would pay the highest price in a conflict. This is because Europe depends on Russia for natural gas. Heating costs in Europe soared last fall as natural gas futures soared.
Germany has warned that it would consider shutting down the Nord Stream 2 gas pipeline, a gas pipeline project linking Moscow to Germany, if Russia attacks Ukraine. This would further limit Europe's natural gas supply.
The impact on US consumers is less direct.
Russia ships relatively modest amounts of oil to the United States, totaling just 200,000 barrels a day in October. This represents only 3% of total US oil imports, which amount to 6 million barrels.
However, crude is a globally traded commodity and pump prices are based on world oil prices. An oil shock anywhere is felt everywhere.
Not only that, but a spike in natural gas prices overseas would have significant ripple effects.
Indeed, very high natural gas prices would force some power plants and factories in Europe and Asia to switch from gas to oil. In other words, demand would increase for oil.
"Harnessing the Energy"
At the same time, the supply would be in doubt.
First, a military conflict would threaten the region's energy infrastructure.
But even if pipelines and refineries are spared, Russia could decide to cut its supply of natural gas, or even crude oil.
"Russia can weaponize energy exports – so everyone feels the pain," said Croft, the RBC strategist. "A lot of people think Russia will react by withholding supplies, to make us pay the price."
And then there is the risk that the White House will respond to an invasion by imposing sanctions on Russian oil and natural gas.
President Biden warned on Wednesday that he would impose "significant costs and significant harm" on the Russian economy if Putin invaded Ukraine.
"It's going to be heavy, it's going to be real, and it's going to have consequences," Biden said.
Biden noted that Russia depends on its oil and gas exports for its economy. However, he refrained from threatening to impose energy sanctions.
Croft, a former CIA analyst, suggested that US officials' reluctance to threaten Russia with energy sanctions telegraphs vulnerability to Putin.
"If you're cutting out energy, you're signaling that you're concerned about energy," she said.
Any conflict could damage Russia's future as the dominant gas supplier.
"When you enter into long-term contracts, you have to trust your partner that, whatever the conditions, you will get this gas," noted IEA's Birol.
Sanctions could worsen inflation
Leveling the sanctions would be a difficult decision for Biden.
On the one hand, energy is vital to Russia's economy, making it an obvious target for sanctions and a way to deal Putin with real consequences.
Crude oil and natural gas accounted for about 43%, on average, of the Russian government's annual revenue between 2011 and 2020, according to the US Energy Information Administration. Oil and gas revenues soared 60% in the first nine months of last year, making it the main driver of government revenue growth, according to the World Bank.
"Russia is a one-pony city. Energy is the only thing they have. This is the glaring weakness of their economy," said Yawger of Mizuho.
And yet, seizing on this weakness by limiting supplies of natural gas and oil to Russia would drive prices up at a time when they are already high.
"This war situation would be bad enough. But if you start imposing sanctions on energy, that just overstates the whole inflation story and takes it to the next level," Yawger said. "You will be committing economic and political suicide by doing this."
Will OPEC and Big Oil come to the rescue?
Croft, the RBC analyst, said the Biden administration would likely respond to a price spike by releasing more barrels from the Strategic Oil Reserve, likely in a coordinated fashion with other countries. That might help cushion the blow.
Biden could also try to convince Saudi Arabia-led OPEC to turn on the taps, arguing that sky-high prices aren't good for producers if they destroy demand.
Analysts say U.S. oil companies, which until recently have been reluctant to dramatically increase production, would respond to oil above $100 by increasing production.
But that wouldn't translate to more gasoline overnight. And in the meantime, prices at the pump would remain high.
— CNN's Chris Liakos contributed to this report