German SPD set to expel Chancellor Schroeder over Ukraine crisis, Putin ties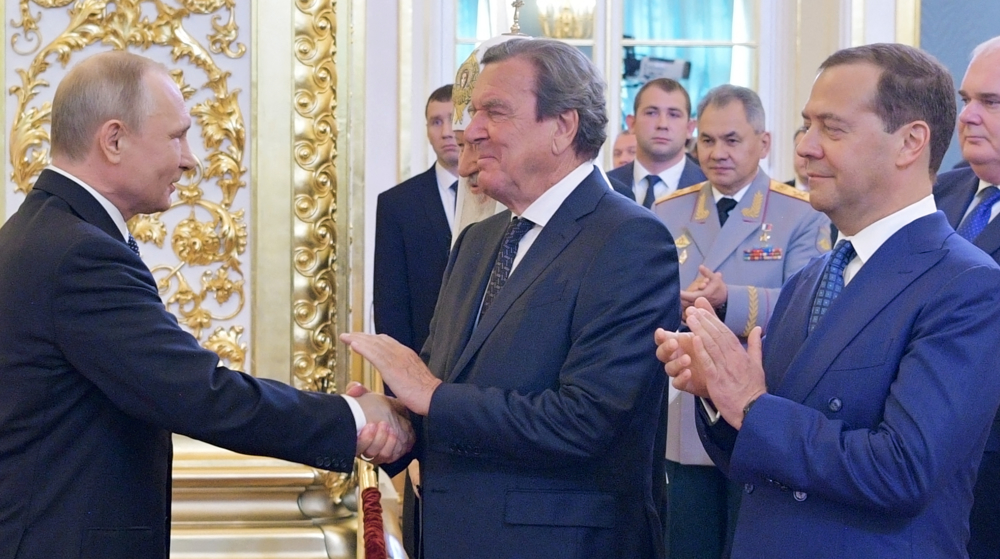 The German Social Democratic Party (SPD) is set to expel former Chancellor Gerhard Schroeder from the party over the conflict in Ukraine and his alleged links to Russian President Vladimir Putin.
The SPD branch in Hanover opened a hearing on Thursday, bringing together officials to discuss 17 applications from local and regional chapters against Schroeder's party membership.
However, according to German news agency dpa, Schroeder did not attend the hearing, nor did he have a lawyer to represent him at the meeting.
Schroeder has "decided that his financial and personal dependence on Putin is more important than his commitment to the SPD or his chancellery legacy," senior party official Thomas Kutschaty told the Rheinische Post daily.
Schroeder, who served as Germany's prime minister from 1998 to 2005, chairs the board of Russian oil company Rosneft and is chairman of the shareholders' committee of pipeline company Nord Stream.
In the aftermath of the Russian offensive in Ukraine at the end of February, the leadership of the SPD had repeatedly challenged Schroeder, asking him to give up his functions in Russian public companies and to surrender his membership of the center-left party.
However, the former Chancellor reiterated that he has no intention of resigning from his seats on the boards of Russian energy companies and the SPD as well. Expelling party members in Germany is a complicated process that frequently fails.
"I will not give up my opportunities to speak to President Putin," Schroeder told the Frankfurter Allgemeine newspaper, defending his relationship with the Russian president.
He also criticized Europe's focus on delivering arms to Ukraine and fanning the flames of war. "I don't believe in a military solution," he said.
United States: no Russian representatives at the G20 meeting
Separately, US Treasury Secretary Janet Yellen said the Russian government had no place at this week's G20 meeting regarding its offensive in Ukraine.
Speaking at a press conference on the sidelines of a meeting of G20 finance officials on Thursday, Yellen blamed rising energy prices and rising food insecurity on Russia and said that would condemn the "invasion" of Ukraine "in the strongest possible terms".
"I think I made it clear that Russia's participation in these meetings cannot continue as if nothing had happened," she said.
Yellen said she would continue to push for a Russian oil price cap, pointing out that this would help drive down energy prices with the help of European and potentially British and American sanctions on the transport of Russian oil. .
Yellen also said she hoped China and India would join in the West's actions against rising global energy prices.
"It will give Russia a way to keep exporting oil…and it will help consumers around the world, including in China and India, avoid a spike in global oil prices," he said. she declared.