Latest news on the war in Ukraine: Russian commanders fleeing Crimea with their families, according to Kyiv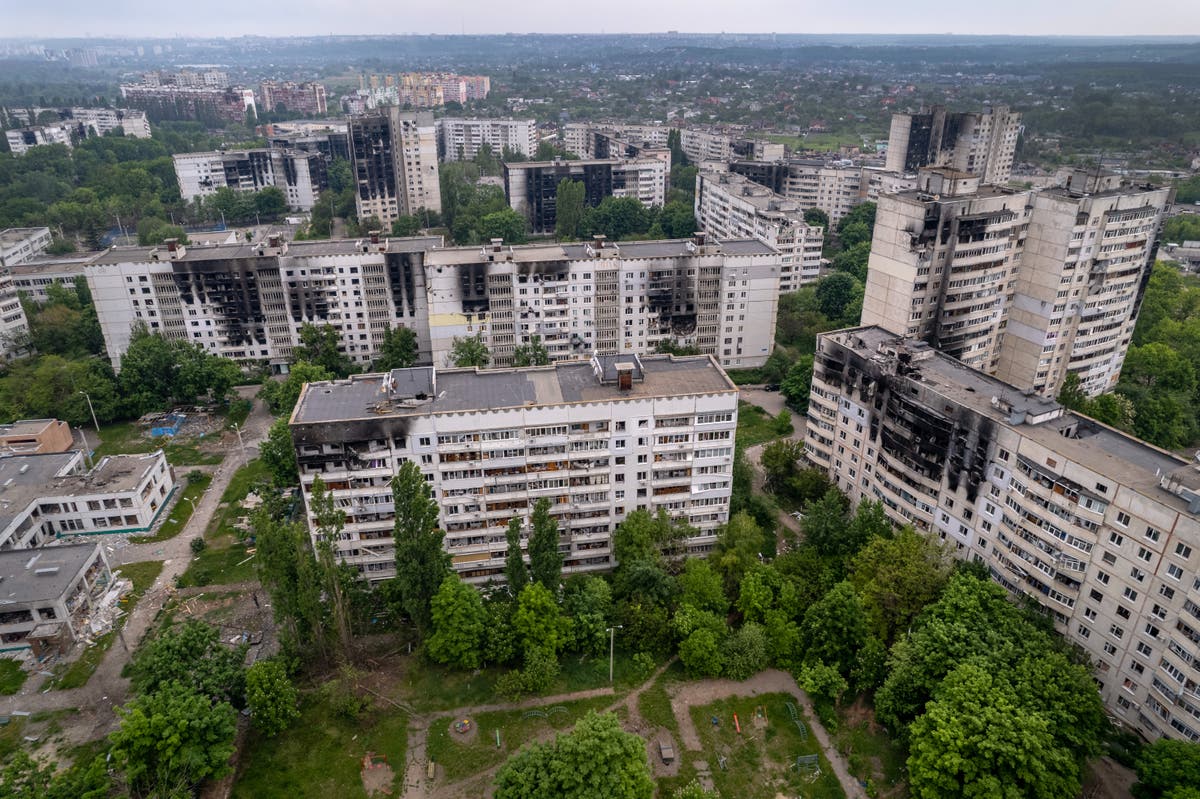 Ukrainian troops enter Svyatohirsk in Donetsk Oblast after recapturing the city
Russian commanders are said to have fled the Crimean peninsula with their families, according to Ukrainian intelligence.
Kyiv has claimed Russian officials have launched an "urgent evacuation" of Crimea, which was annexed by Moscow in 2014. It comes as Ukraine's military seeks to extend the significant territorial gains it has made in recent days .
Ukrainian intelligence sources said Russian nationals were "secretly trying to sell their homes and urgently evacuate their relatives from the peninsula".
Earlier on Tuesday, a former NATO deputy secretary general warned that Russian President Vladimir Putin could use nuclear weapons after his army suffered a deadly defeat in northeast Ukraine.
"I fear they are now responding in a really unpredictable way and in a way that may even involve weapons of mass destruction," Rose Gottemoeller said. BBC Radio 4 Today program tuesday.
In less than two weeks, Ukraine has reportedly liberated more than 6,000 square kilometers of land, with Ukrainian President Volodymyr Zelensky urging the West to send in more weapons so his military can press its advantage.
1663094684
US could announce new military aid program for Ukraine within days
The Biden administration is likely to announce a new military aid package for Ukraine in the "coming days", the White House has said.
"I think you'll see another one here in the next few days," White House national security spokesman John Kirby told reporters.
Last week, the United States announced that it had so far provided $15.2 billion in military aid to Ukraine.
Aisha RimiSeptember 13, 2022 7:44 p.m.
1663093230
Footage of Ukrainian soldiers burning a Russian flag has been released
Footage has emerged of Ukrainian soldiers burning a Russian flag in Vovchansk, a town from which Russian troops have since withdrawn.
Aisha RimiSeptember 13, 2022 7:20 p.m.
1663092330
Russia 'likely to concede half the size of Wales' in Ukraine
Russia is likely to continue its surprise retreat from swaths of Ukraine until Kyiv forces retake an area nearly half the size of Wales, Western officials believe.
They suspect that Russian troops will not try to retake lost lands around the Kharkiv region and will instead consolidate their firepower in the south.
Officials also did not deny reports that British and American military officials played a role in advising Ukraine on its counteroffensive, which forced a dramatic withdrawal from the Kremlin.
President Zelensky's claim that his forces have regained 6,000 square kilometers (more than 2,300 square miles) this month has been backed by Western intelligence.
"However, Russian forces are likely to be withdrawing from the whole of the occupied North Kharkiv Oblast, an area of ​​up to 10,000 km2 or approaching half the size of Wales," added one. responsible.
Instead, intelligence suggests the Russians will try to consolidate east of the Oskil River to focus on defending the Donbass region, which is high among Mr Putin's publicly stated goals.
"I don't expect them to try to regain (lost land), they are trying to consolidate their lines. They are loath to lose the territory they have declared as their main objectives, namely Donbass and the land bridge," the official said.
They added: "It is too early to tell if this is a turning point in the war, but it is a moment that has power both in terms of operations, logistics and psychology.
"Unlike Russia, Ukraine has demonstrated impressive operational art and an adherence to fundamental principles of warfare."
Western officials refused to deny the suggestion and instead stressed that the plans were all Kyiv's.
Aisha RimiSeptember 13, 2022 7:05 p.m.
1663091430
US says Russia has spent more than $300 million on foreign influence efforts since 2014
A US intelligence review found that Russia had transferred more than $300 million to foreign political parties, officials and politicians in more than two dozen countries since 2014 as part of Moscow's efforts to gain influence at home. overseas, a senior Biden administration official said.
The US government was declassifying some information in the report and had shared information about Russia's secret political funding with other countries, the official, who spoke on condition of anonymity, told reporters during a briefing. telephone press.
Aisha RimiSeptember 13, 2022 6:50 p.m.
1663090710
Ukrainian forces have liberated 300 settlements in Kharkiv Oblast since September 6
Ukrainian Deputy Defense Minister Hanna Maliar announced on Facebook that more than 300 settlements in Kharkiv Oblast had been liberated in the past week.
She said: "The actual number of liberated territories in Kharkiv Oblast is almost double. The data will be clarified tomorrow.
Aisha RimiSeptember 13, 2022 6:38 p.m.
1663089826
IMF allocates additional $1.4 billion to support Ukraine
Aisha RimiSeptember 13, 2022 6:23 p.m.
1663088730
Russia could use nukes after setbacks, senior officials warn
Vladimir Putin could deploy a nuclear strike against Ukraine after suffering humiliating defeats on the battlefield, a former top US diplomat has warned.
Rose Gottemoeller, who served as NATO's deputy secretary general between 2016 and 2019, expressed her fears after Ukraine recaptured much of Kharkiv province in less than a week.
speaking on BBC Radio 4 Today programshe praised Ukraine for its successes but warned that the Kremlin could react in "unpredictable" ways.
Russia could use nuclear weapons after Ukraine setbacks, senior officials warn
Kremlin could respond in 'unpredictable ways' to Kharkiv rout, says Rose Gottemoeller
Aisha RimiSeptember 13, 2022 6:05 p.m.
1663087843
Ukraine attacks Germany for lack of military aid
Angry Ukrainian officials have accused Germany of ignoring appeals from Kyiv for military hardware, including Leopard tanks and infantry fighting vehicles.
Foreign Minister Dmytro Kuleba said Berlin was offering "abstract fears and excuses" instead of weapons, as the row over military aid between the two countries flared up again.
His comments came after President Volodymyr Zelensky issued a fresh appeal to the West to speed up deliveries of weapons systems as Ukrainian forces seek to consolidate control of a large swath of territory in the north- is taken from Russia.
"What is Berlin afraid of? Ukraine attacks Germany for lack of military aid
"Not a single rational argument as to why these weapons cannot be provided, only abstract fears and excuses," says Kyiv
Aisha RimiSeptember 13, 2022 5:50 p.m.
1663083634
Kremlin says Russians support Vladimir Putin but warns of 'very fine line' on criticism
The Russian people support President Putin, the Kremlin insisted on Tuesday, despite murmurs of discontent and criticism following Ukraine's successful military counteroffensive last week.
But officials warned there was a "very, very, thin line" that would be tolerated by Moscow when it came to criticism of the Russian leader.
Kremlin says Russians support Putin but warns of 'very fine line' on criticism
"The Russians support the president, and this is confirmed by the mood of the people," the spokesperson said.
Aisha RimiSeptember 13, 2022 4:40 p.m.
1663082434
Ukrainian troops enter recaptured city of Donetsk province
Ukrainian troops enter Svyatohirsk in Donetsk Oblast after recapturing the city
RorySullivanSeptember 13, 2022 4:20 p.m.