Latest on Ukraine-Russia war: Missile strike on Kharkiv cultural center 'diabolical', says Zelensky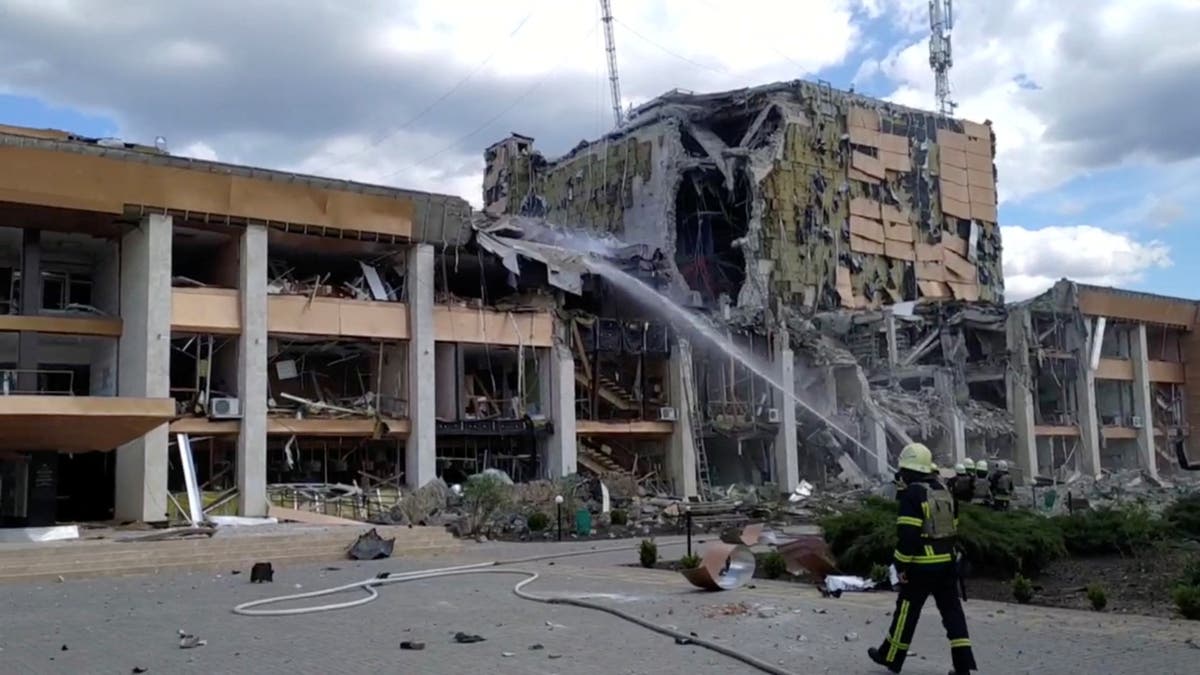 President Zelensky meets with US officials
The Ukrainian president denounced a video of a missile strike launched on a cultural center in the Kharkiv region, which he described as "absolute evil, absolute stupidity".
Volodymyr Zelensky shared the startling CCTV footage of the explosion as it collided with the House of Culture in Lozova on his Telegram channel.
He blamed Russia for launching the attack on the eastern city.
Zelensky said seven people, including an 11-year-old child, were injured.
"The occupiers have identified culture, education and humanity as their enemies," he said, adding, "What's on the minds of people who choose such targets?"
Ukraine's state emergency service has since released a number of chilling images of the damage caused by the missile strike on the newly refurbished House of Culture in Lozova.
A local health official, Viktor Zabashta, said Interfax: "No one is dead yet."
Russia has not yet released a comment on the strike.
1653100200
Russian soldier in his Ukraine war crimes trial says he didn't mean to kill
A 21-year-old Russian soldier told a court on Friday that he had no intention of killing an unarmed civilian and had sincerely repented as he spoke his last words in the first trial for crimes of war arising from the Russian invasion.
Vadim Shishimarin, a tank commander, pleaded guilty to the murder of Oleksandr Shelipov, a 62-year-old civilian, in the village of Chupakhivka in northeastern Ukraine on February 28.
"I sincerely repent. I was nervous at the time, I didn't want to kill…that's how it happened," Shishimarin said.
Shishimarin is accused of firing multiple assault rifle shots at a civilian's head from a car after being ordered to do so.
Defense attorney Viktor Ovsiannikov told the court that Shishimarin only fired the shots after he twice refused to carry out the order to fire and that only one out of three to four shots reached the target. target.
Emily AtkinsonMay 21, 2022 03:30
1653096600
Russia plans to allow over-40s to fight war in Ukraine
Russia's parliament may allow people over 40 to join the military as it struggles to make territorial gains in eastern Ukraine, writes RorySullivan.
Emily AtkinsonMay 21, 2022 02:30
1653093000
Watch: Putin takes breaks from meetings for medical treatment, ex-British spy claims
Putin takes breaks from meetings for treatment, ex-British spy claims
Emily AtkinsonMay 21, 2022 01:30
1653090000
Zelensky says Russia should pay for destruction in Ukraine
President Volodymyr Zelensky has demanded that Russia be held financially responsible for the damage inflicted on Ukraine by its forces.
Speaking during his nightly video address, Zelensky said Moscow should be made to pay for every home, school, hospital and business it destroys.
He said a legal mechanism should be created through which all those who suffered from Russia's actions could receive compensation.
"That would be fair," Zelensky said. "And Russia would feel the true weight of every missile, every bomb, every shell it fired at us."
Emily AtkinsonMay 21, 2022 12:40 a.m.
1653087600
Watch: Protester removed from Cannes red carpet
A demonstrator removed from the Cannes red carpet
Emily AtkinsonMay 21, 2022 12:00 a.m.
1653086453
Protester plants Cannes carpet at George Miller premiere
A woman who stripped naked to reveal an anti-rape message written on her body crashed the Cannes Film Festival red carpet for the premiere of George Miller's 'Three Thousand Years of Longing' on Friday.
The unidentified woman tore her clothes during the film's red carpet procession to reveal the message "Stop Raping Us" written on her chest alongside the blue and yellow colors of the Ukrainian flag. Red was also painted on his legs and groin.
As she shouted "Don't rape us!" security quickly surrounded her and removed her from the red carpet.
Emily AtkinsonMay 20, 2022 11:40 p.m.
1653085282
Zelensky reveals how supplies were delivered to Azovstal defenders
President Volodymyr Zelensky has revealed that Ukrainian pilots took part in treacherous missions to deliver supplies to the defenders entrenched in the Azovstal steelworks.
He said the operation could not be reported earlier because no safe corridor had been established.
Zelensky said the pilots risked Russian anti-aircraft fire to transport medicine, food and water to the sprawling factory on helicopters, causing a large number of casualties.
In an interview published on the third anniversary of his inauguration as president on Friday, he said the effort also included recovering bodies and picking up the wounded. "These are absolutely heroic people, who knew it would be difficult, knew flying would be next to impossible," Zelensky said.
Emily AtkinsonMay 20, 2022 11:21 p.m.
1653082730
US to arm Ukraine with anti-ship missiles
US officials are considering arming the Ukrainian military with advanced anti-ship missiles, Reuters reported.
Citing Biden administration officials, the report said the White House could offer Kyiv Boeing Harpoon and Naval Strike missiles with which to target Russia's Dark Fleet, which is currently blocking Ukrainian ports.
British defense officials said about 20 Russian Navy ships, including submarines, are active in the area.
Officials believe the weapons could help force Russian ships away from Ukrainian territory and allow shipments of grain and other agricultural products to resume.
But the missiles, which cost around $15m (£12m) per round and have a range of 300km, are mainly sea-based missiles, meaning Ukraine could struggle to fire them from the shore.
Emily AtkinsonMay 20, 2022 10:38 p.m.
1653081764
Here are some of the latest images of the southern port city of Mariupol, which today was claimed by Russia to be under its full control:
Emily AtkinsonMay 20, 2022 10:22 p.m.
1653080333
Moscow says last batch of Azovstal soldiers surrendered
The Russian Defense Ministry said on Friday that the last group of Ukrainian forces holed up in the Azovstal steelworks in Mariupol had surrendered, marking the end of a week-long attack that left the city in ruins.
"The territory of the Azovstal Metallurgical Plant (…) has been completely liberated," the ministry said in a statement.
He said the group that surrendered included 531 people.
"The company's underground facilities, where the militants were hiding, have come under the full control of the Russian armed forces," the Russian statement said, adding that a total of 2,439 defenders had surrendered in recent days.
Emily AtkinsonMay 20, 2022 9:58 p.m.