Live updates of the Russian-Ukrainian crisis on July 16, 2022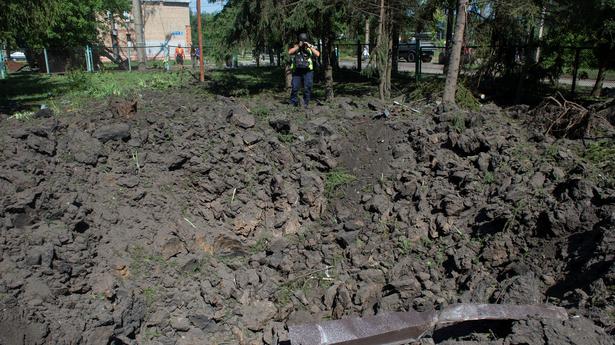 Here are the latest developments in the ongoing Russian-Ukrainian conflict on July 16

Here are the latest developments in the ongoing Russian-Ukrainian conflict on July 16

Two people were killed in Nikopol on Saturday when heavy Russian shelling hit the southern Ukrainian town, emergency services and the regional governor said. Rescuers recovered the bodies of two people from the rubble, the emergency services said. Dnipropetrovsk regional governor Valentyn Reznichenko said Russia fired 53 Grad rockets at the city.
In another attack, a Russian missile hit the town of Chuhuiv in northeastern Ukraine, in the Kharkiv region, at night around 3:30 a.m. local time, killing three people, including a 70-year-old woman, and injuring three others, the regional governor said on Saturday.
As Russia stepped up long-range shelling of Ukrainian cities that killed at least 34 people in the past three days and injured dozens, air raid sirens sounded in the Ukrainian capital Kyiv on Saturday.
Read also | The Ukrainian War and the Return to Eurocentrism
On Thursday, Kalibr cruise missiles launched from a Russian submarine in the Black Sea hit an office building in Vinnytsia, a city of 370,000 people about 200 km (125 miles) southwest of Kyiv. Officials said the strike killed at least 23 people and injured dozens.
Explained | The impact of the Ukraine-Russia crisis on world agricultural markets
Here are the latest updates:
Nikopol
Two dead in Russian shelling in Nikopol, according to Ukrainian emergency services

Two people were killed in Russian shelling in Nikopol, according to the Ukrainian emergency service, two people were killed in Russian shelling in the city of Nikopol in southern Ukraine. – Reuters
Kharkov
Russian strike kills three in Kharkiv region, governor says

A Russian missile strike hit the northeastern Ukrainian town of Chuhuiv in the Kharkiv region, killing three people, including a 70-year-old woman, and injuring three others, the governor said on Saturday. regional.
The strike damaged a two-story residential building, a school and a store, and rescuers were scouring the rubble, Governor Oleh Synehubov and police said. A regional police official said Russia fired four missiles at the city from the western city of Belgorod at around 3:30 a.m. local time.
Russia, which invaded Ukraine on February 24, denies targeting civilians in what it describes as a special military operation.
Ukraine's Defense Ministry spokesman said on Friday that only 30 percent of Russian strikes hit military targets, with the rest landing on civilian sites. This claim could not be verified by Reuters. – Reuters
bali
US Treasury Secretary Yellen condemns Russia's 'unprovoked war on Ukraine' in meetings with Saudi, Australian, South African and Singaporean officials

US Treasury Secretary Janet Yellen met bilaterally with senior officials from Saudi Arabia, Australia, South Africa and Singapore on the sidelines of the Group of 20 (G20) financial meetings in Indonesia, it said on Saturday. the Treasury Department.
During the meetings, Ms Yellen condemned the "unprovoked war on Ukraine, which has caused global spillovers in food, energy and other commodities", and encouraged countries to support a capping Russian oil prices to restrict the flow of revenue to its military, the Treasury said. – Reuters
bali
As Russia's war in Ukraine continues to divide the G20, an official statement after the summit's conclusion is unlikely

The G20 finance chiefs meeting in Bali would likely end without an official statement as Russia's war in Ukraine continues to divide the group, sources said. Indonesia, the host nation, on Saturday urged the group's financial leaders to stay focused on their global economic recovery goals.
Indonesian Finance Minister Sri Mulyani Indrawati, who is hosting the two-day event, is expected to issue a presidential statement summarizing the events of the meeting instead of an official statement, two sources familiar with the matter said.
"We are not expecting a statement," a source said.
Senior Western officials, including US Treasury Secretary Janet Yellen and Canadian Finance Minister Chrystia Freeland, on Friday condemned the war and criticized Russian officials for the massive economic fallout caused by the war.
Ukrainian Finance Minister Serhiy Marchenko, who addressed the meeting virtually, called for "tougher targeted sanctions" against Russia for its invasion of Ukraine. What the Kremlin calls a "special military operation" has overshadowed recent G20 meetings, including last week's meeting of foreign ministers. – Reuters
Washington
Russian officials traveled to Iran to see drones: White House

The White House said Russian officials had visited an airfield in central Iran at least twice in recent weeks to see weapon-capable drones they were seeking to acquire for use in its war in Iran. course in Ukraine.
Iran presented the drones to Russian officials at Kashan airfield on June 8 and July 15, according to the White House. The administration also released satellite images of Shahed-191 and Shahed-129 drones on display and in flight at the airfield, while a Russian delegation transport plane was on the ground. – PA
Kyiv
Russia deploys missiles from Europe's largest nuclear power plant, Ukrainian agency says

Russia is using Europe's largest nuclear power plant as a base for storing weapons, including "missile systems", and for bombing surrounding areas of Ukraine, a Kyiv nuclear agency official said.
Located on the Dnipro River in southeastern Ukraine, the Zaporizhzhia nuclear power plant has been under Russian control since the first weeks of the invasion of Moscow, although it is still operated by Ukrainian personnel.
The head of Ukraine's nuclear agency Energoatom said in a television interview on Friday that the situation was "extremely tense", with up to 500 Russian soldiers controlling the plant. "The occupiers are bringing their machines there, including missile systems, from which they are already bombarding the other side of the Dnipro river and the territory of Nikopol," said Pedro Kotin, referring to the city on the other side. some water.
"They physically control the perimeter. Heavy machinery and trucks loaded with weapons and explosives of the occupiers remain on the territory of the Zaporizhzhia nuclear power plant," he said. "The pressure on the occupants to leave the territory of the plant is insufficient," he added, before attacking the International Atomic Energy Agency.
"(The IAEA) is playing political games, balancing Russia and Ukraine," he said. – AFP
Russia/Ukraine
'Progress' towards agreement to lift blockade restricting Ukrainian grain exports

Despite the bloodshed, the two sides described progress towards an agreement to lift a blockade restricting the export of Ukrainian grain. Mediator Turkey said a deal could be signed next week.
Asked if that timeline was realistic, a senior Ukrainian official told Reuters: "We really hope so. We are rushing as quickly as possible. The official asked not to be identified.
The Russian Defense Ministry said a deal was close, but the Moscow negotiator warned that a grain deal would not lead to a resumption of peace talks. A deal would likely involve ship inspections to ensure Ukraine is not importing weapons and guarantees from Western countries that Russia's own food exports are exempt from sanctions.
The war dominated a meeting of G20 finance ministers in Indonesia. Two sources said the group was unlikely to release an official statement on Saturday. Russia is among them, as are the industrial powers of the G7, as well as China, India and South Africa, among others. – Reuters
Dnipro
Russian cruise missiles rain down on a city in southern Ukraine

Cruise missiles fired by Russian strategic bombers struck a city in southeastern Ukraine on Friday evening, killing at least three people and injuring 15, as air raid sirens went off across the country, officials said.
The attack on Dnipro came a day after a Russian missile strike killed at least 23 people and injured more than 200 in Vinnytsia, a town southwest of Kyiv, the capital.
Russia's military campaign has focused on Donbass in eastern Ukraine, but Russian forces have also pounded other parts of the country in a relentless push to wrest territory from Ukraine and soften the morale of its leaders, civilians and soldiers as war approaches. five month mark. – PA