Live updates of the Russian-Ukrainian crisis | The Ukrainian flag is raised again on Snake Island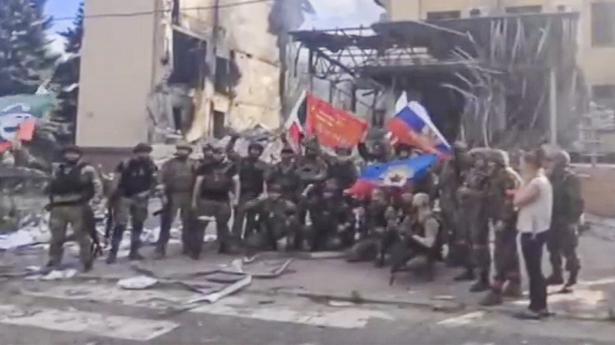 Here are the latest developments in the ongoing Russian-Ukrainian conflict on July 4

Here are the latest developments in the ongoing Russian-Ukrainian conflict on July 4

Ukrainian forces withdrew from the bombed city of Lysychansk, prompting Russia to claim full control of the eastern Luhansk region, a key Kremlin war objective, but President Volodymyr Zelensky has vowed to regain lost territory.
Ukraine said on Sunday that the tactical withdrawal would save the lives of its soldiers who would regroup to launch a counter-offensive using long-range Western weapons.
But Moscow said taking Lysychansk less than a week after taking neighboring Sievierdonetsk meant it had "liberated" Luhansk. He declared that he would give Luhansk to the self-proclaimed Russian-backed Luhansk People's Republic, whose independence he recognized on the eve of the war.
Explained | The impact of the Ukraine-Russia crisis on world agricultural markets
The battlefield now focuses on the neighboring region of Donetsk, where Kyiv still controls swathes of territory.
Here are the latest updates:
Russia
Vladimir Putin declares victory in the besieged Donbass region of Luhansk

Russian President Vladimir Putin declared victory in the Luhansk region of eastern Ukraine on Monday, a day after Ukrainian forces withdrew from their last stronghold of resistance in the province.
Russian Defense Minister Sergei Shoigu told Putin in a televised meeting on Monday that Russian forces had taken control of Luhansk, which together with neighboring Donetsk province is Ukraine's industrial heartland of Donbass. .
Mr Shoigu told Mr Putin that the "operation" ended on Sunday after Russian troops overran the town of Lysychansk, the last stronghold of Ukrainian forces in Luhansk.
Russia
Putin orders continuation of Ukrainian offensive after capture of Lugansk

Russian President Vladimir Putin on Monday ordered Defense Minister Sergei Shoigu to continue Moscow's offensive in Ukraine after troops took control of the entire Lugansk region.
"Military units, including the Eastern Group and the Western Group, must perform their tasks in accordance with previously approved plans," Putin said in Shoigu.
"I hope everything will continue in their direction as it has happened in Lugansk so far."
Shoigu told Putin over the weekend that forces from Moscow now have full control of the Lugansk region, a major victory for the Kremlin more than four months after its leader sent troops to Ukraine. – AFP
UKRAINE
Ukrainian flag raised again on Snake Island, military says

The Ukrainian flag has been raised again on Snake Island in the Black Sea, a Ukrainian military spokesman said on Monday, after Russian troops withdrew from the strategic outpost last week.
"The territory (Serpentine Island) has been returned to the jurisdiction of Ukraine," Natalia Humeniuk, spokeswoman for Ukraine's Southern Military Command, told a news conference. Reuters
RUSSIA
Putin praises Russian troops for 'liberating' Ukraine's Lugansk region

President Vladimir Putin praised Russian troops on Monday for "liberating" the eastern Ukrainian region of Lugansk, a milestone for Moscow in its military campaign in Ukraine.
In a televised meeting with Defense Minister Sergei Shoigu, Putin said troops involved in the operation to capture the Luhansk region should rest but other military units should continue to fight. Reuters
TURKEY
Turkey arrests Russian vessel, investigates Ukrainian allegations – senior official

Turkey has detained a Russian-flagged freighter off its Black Sea coast and is investigating a Ukrainian allegation that it was carrying stolen grain, a senior Turkish official said on Monday.
Ukraine's ambassador to Turkey said on Sunday that the ship Zhibek Zholy had been detained by Turkish customs authorities. Ukraine previously asked Turkey to detain the ship, according to an official and documents seen by Reuters.
RUSSIA
Russian cosmonauts celebrate the capture of Ukraine's Lugansk region in space

Russian cosmonauts aboard the International Space Station on Monday celebrated Russia's capture of the eastern Ukrainian region of Luhansk, a milestone for Moscow in the war.
Roscosmos, the Russian space agency, described Moscow's capture of the Luhansk region as "a day of liberation to be celebrated both on Earth and in space".
The agency released photos of cosmonauts Oleg Artemyev, Denis Matveev and Sergei Korsakov smiling as they waved flags of Russia's proxies in eastern Ukraine, the self-proclaimed Luhansk People's Republic and the People's Republic of Donetsk.
"This is a long-awaited day that residents of the occupied areas of the Luhansk region have been waiting for eight years," Roscosmos wrote on the Telegram messaging app.- Reuters
BAKHMOUT
Hell on Earth: Ukrainian soldiers on the Eastern Front

Ukrainian soldiers returning from the front lines in eastern Ukraine's Donbass region – where Russia is waging a fierce offensive – describe life during what has turned into a grueling war of attrition as apocalyptic .
In interviews with The Associated Press, some complained of a chaotic organization, desertions and mental health problems caused by incessant bombing. Others spoke of high morale, the heroism of their colleagues and a commitment to keep fighting, even as the better-equipped Russians control more of the combat zone. – PA
LUHANSK
Fighting continues in pockets of Luhansk: Governor

Isolated fighting continues in two villages in the Luhansk region where Russia has not yet established control, Luhansk Governor Serhiy Haidai told Reuters.
He added that Ukraine "could have continued" the defense of Lysychansk but that its forces would have been surrounded and pounded by Russian heavy artillery.
"Russia's attention will now shift to the Donetsk region, and to Sloviansk and Bakhmut in particular," he said.
MOSCOW
Western companies struggle to leave Russia

For foreign companies still unsure what to do with their stranded Russian assets, President Vladimir Putin's seizure of a major oil and gas project is a powerful warning: Act fast or else.
Companies have struggled with how to exit in a way that limits the financial impact, does not put employees at risk and, in some cases, provides the option to return in the future.
More than a thousand Western companies have joined a corporate exodus from Russia – unprecedented in its scale and speed – as they scramble to comply with sanctions and amid threats of retaliation from the Kremlin.
The hurdles are enormous: Confusion swirled over what the Kremlin would allow foreign companies to do; staff nervous after threats of government retaliation; the sanctions have limited the pool of buyers and there is little time to verify them; selling prices have been greatly reduced; and negotiations are being done virtually because fears of reprisals make it too risky to travel to Russia in person.
As Moscow prepares a new law that should come into force soon allowing it to take control of local affairs from Western companies that decide to leave, the stakes are higher and higher. -Reuter
Kyiv
Military base hit

Ukraine said its air force had carried out about 15 sorties "in virtually all directions of hostilities", destroying equipment and two ammunition depots.
In the Russian-occupied southern Ukrainian city of Melitopol, Ukrainian forces hit a military logistics base on Sunday with more than 30 strikes, the city's exiled mayor Ivan Fedorov said. A Russian-installed official confirmed that strikes had hit the city. -Reuter
MOSCOW
Expensive campaign

Thousands of civilians have been killed and towns razed to the ground since the Russian invasion on February 24, with Kyiv accusing Moscow of deliberately targeting civilians. Moscow denies it.
Russia says what it calls a "special military operation" in Ukraine is aimed at protecting Russian speakers from nationalists. Ukraine and its Western allies say this is a baseless pretext for blatant aggression aimed at seizing territory.
As Russia would try to portray its advance in Luhansk as a significant moment in the war, it cost the Russian military dearly, said Neil Melvin of the London-based think tank RUSI.
"Ukraine's position has never been that they can defend all of this. What they tried to do was slow down the Russian onslaught and cause maximum damage, while they prepare a counter-offensive," he said. -Reuter
MOSCOW
Russian Defense Minister tells Putin that Ukraine's Luhansk region has been 'liberated'

Russian Defense Minister Sergei Shoigu has informed President Vladimir Putin that the entire Ukrainian region of Lugansk has been "liberated" by Russian and separatist forces, the Defense Ministry said on Sunday.
After being rebuffed in its initial attempt to seize the capital Kyiv, Russia has focused its efforts on expelling Ukrainian forces from the Lugansk and Donetsk regions in the east of the country, where Moscow-backed separatists have been fighting Kyiv since Russia's first military intervention. in Ukraine in 2014. – Reuters