May 23, 2022 Russia-Ukraine News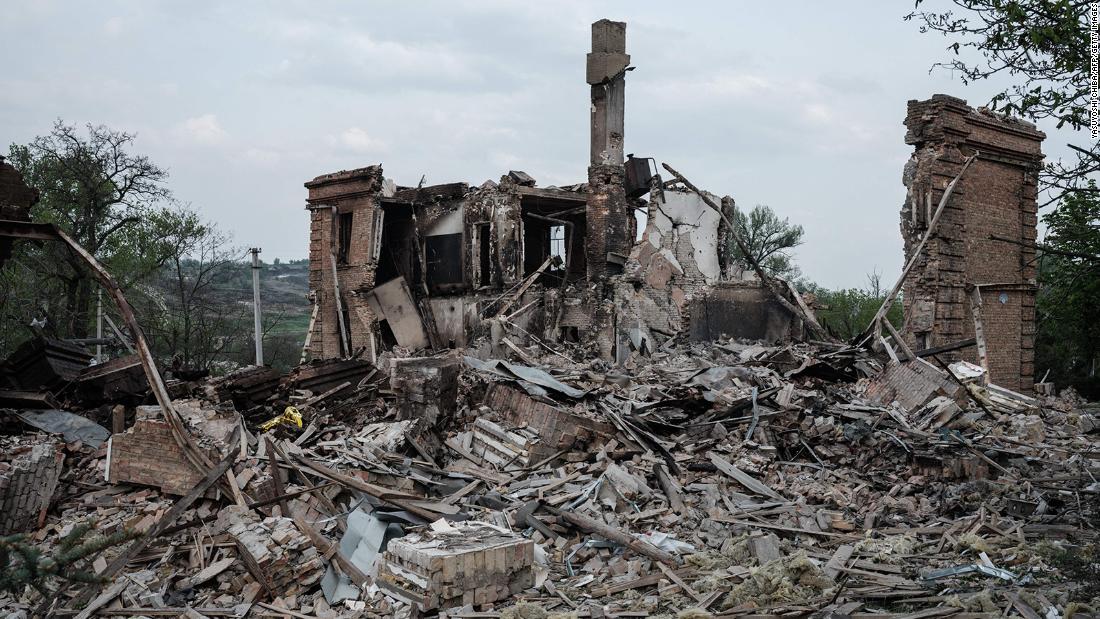 Kevin, a stocky American in his thirties, climbs over the charred rubble of an old sauna and shines the light from his iPhone through the dust.
"We're not going to go any further because this wire is intentionally attached to something and then buried here," he warns. "A lot of Russians came back through some of these places and re-mined them, put [in] crazy traps."
Kevin is part of an elite group of foreign Special Forces veterans, mostly American and British, who have enlisted to help the Ukrainian cause.
He says that last March the group spent four days at the spa – they called it "the house of hell" – often just 50 meters from Russian troops. It was, he said, the most forward position held by the Ukrainians in Irpin, a suburb on the outskirts of kyiv, as Russian forces tried to push to seize the capital.
The once affluent suburb is now synonymous with alleged Russian war crimes – a place of pilgrimage for visiting dignitaries who have made their way to its shell-scarred streets. Kevin says he and his men were among the first to witness attacks on Ukrainian civilians here.
Despite a former career as a top US counterterrorism agent, serving in Iraq and Afghanistan, Kevin says it was here in Ukraine that he faced the most intense fighting of his life.
He says he and his new comrades in arms implemented many guerrilla tactics that were used against the US military in places like Iraq and Afghanistan. They are now the insurgents.
"Everything is much more decentralized," he explains. "Small group tactics are definitely a huge advantage here."
We do not use Kevin's full name due to the nature of his work in Ukraine.
"Being on this side now and hearing their conversations on the radio – and them knowing, okay, they're out there somewhere, we don't know where or who it is – there's definitely an upside to this," he said.
"A real combat experience": Like many military veterans, Kevin says he had felt adrift since leaving the battlefield several years ago. He had a full-time job in the United States, but quit when Ukrainian President Volodymyr Zelensky appealed for experienced foreign fighters early in the war. He arrived in western Ukraine, was driven to kyiv and found himself on the front lines of the battle for the capital within hours.
He joined the Ukrainian International Legion, launched by the government in the early days of the war. The government pays him and his colleagues a modest salary of between $2,000 and $3,000 a month, though Kevin claims they spent far more than that on equipment. The International Legion even had its own website, telling prospective foreign recruits how to contact the Ukrainian Embassy and what to pack.
During these first weeks, the government struggled to weed out pretenders and war tourists who were overwhelmed. As of March 6, they had received more than 20,000 applications, according to the foreign minister.
The number of foreign fighters currently in Ukraine is a state secret, but an International Legion spokesperson told CNN the "symbiosis" means "Ukraine's chances of winning are greatly increased."
"The best of the best join the Ukrainian Armed Forces," Col. Anton Myronovych told CNN. "They are foreigners with real combat experience, they are foreign citizens who know what war is, know how to handle weapons, know how to destroy the enemy."
For the first time in his life, Kevin defended himself against the invasion of a better equipped enemy. It was he, not the enemy, who had to worry about the airstrikes. There was no master plan, no air support – and there would be no evacuation in the event of a disaster.
"It was like a movie," he says. "It was madness from the start. We started shooting indirectly – small arms fire. And I was in a van, driving down the street."
"There are tanks, and above us there are helicopters. And you can hear the Russian jets going by. And in the open fields, the Russians were dropping troops in helicopters. And so you say to yourself: 'Wow, wow!' It's a lot."
Read more here.