October 10, 2022 Russia-Ukraine News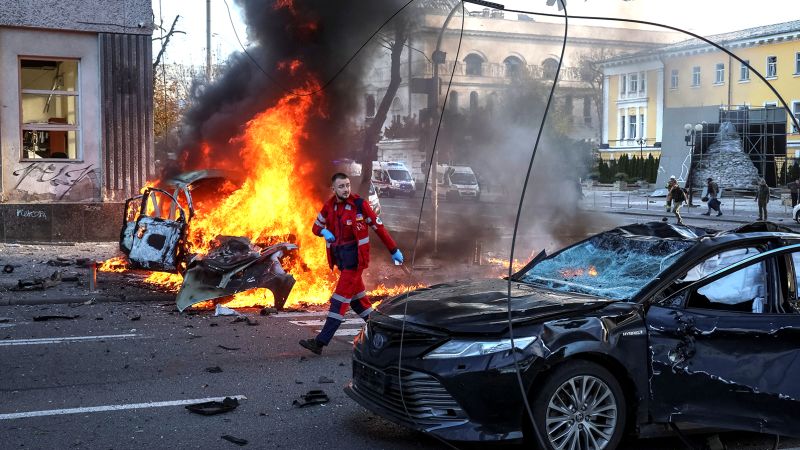 Russian forces used missiles, airstrikes and drones in a "massive attack" on several Ukrainian cities on Monday, according to Ukrainian officials.
"Since the morning, the aggressor has launched 75 rockets. 41 of them were neutralized by our air defenses," said Valerii Zaluzhnyi, Commander-in-Chief of the Ukrainian Army.
Powerful explosions rumbled across Kyiv on Monday morning, killing several people. At the same time, regional authorities also reported missile and rocket attacks in Kharkiv, Lviv, Mykolaiv and Dnipropetrovsk, in part targeting critical civilian infrastructure.
Ukrainian President Volodymyr Zelensky said the missile strikes targeted Ukraine's energy facilities and its population.
"They specifically chose the timing and the targets to create the most damage," he said outside his office in central Kyiv.
Moscow wanted to destroy Ukraine's "energy system", Zelensky said, adding that the Ukrainians shot down 38 incoming projectiles. He urged people to stay in shelters on Monday.
Further south, a Ukrainian official also confirmed that Russian missiles were targeting electrical infrastructure in the Mykolaiv region.
"They are hitting the infrastructure, trying to leave us without electricity," Vitalii Kim, head of the Mykolaiv regional military administration, said on Telegram.
"The Russians are trying to scare us by hitting the infrastructure. There might be power outages, but repair work is underway, not just in Mykolaiv, but in all regions," he added.
Kim added that the Russians had claimed they were advancing "in all directions", but the opposite was true: "In fact, we are advancing and they are panicking."