Russia-Ukraine News Breaking News: Putin expects 'cannon fodder' to mobilize Russians to last a few weeks, says Zelensky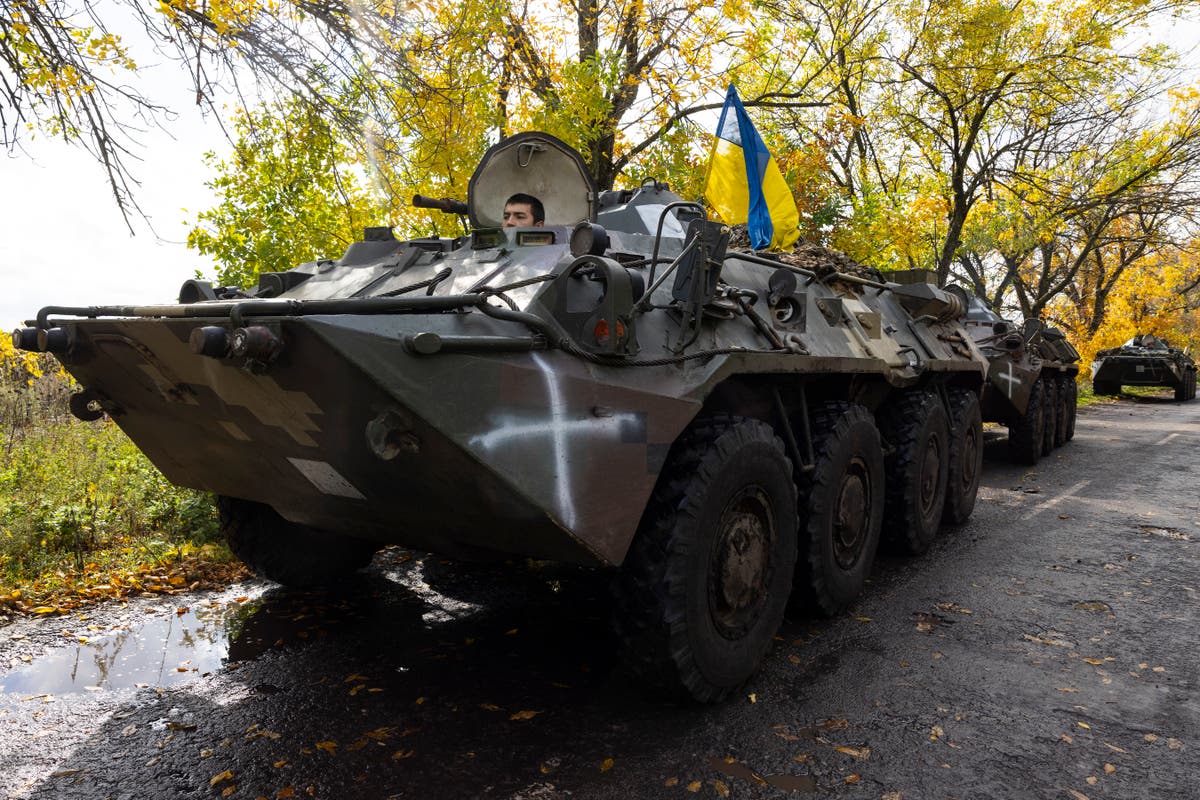 Moment a Russian missile hits a pedestrian bridge in Kyiv
Volodymyr Zelensky said that the men mobilized by Russia on the front lines of the war should be "cannon fodder" and will only survive the war for a few weeks.
"Now Russia is sending thousands of its mobilized men to the front. They don't have significant military training, but their command doesn't need it at all," Zelensky said in his evening speech.
"But meanwhile, such use by Russian generals of their people as 'cannon fodder' helps to create additional pressure on our defenders," the president said.
The Russian-installed governor in the Kherson region of southern Ukraine has told residents to take their children and flee, in one of the starkest signs yet that Moscow is losing its grip on the territory he claims to have annexed.
Vladimir Saldo has publicly asked for Moscow's help in transporting civilians to safer parts of Russia, and Russian authorities have promised free accommodation to all fleeing residents.
Meanwhile, Ukraine's Ministry of Reintegration of Temporarily Occupied Territories said on Friday it had recaptured more than 600 settlements from Russian forces in the past month.
1665745538
Zaporizhzhia nuclear power plant operates by Russian standards, Russian official says
A Russian-installed official in southern Ukraine said on Friday that the Zaporizhzhia nuclear power plant had started operating according to Russian standards, state news agency TASS reported.
Russia declared the Zaporizhzhia region part of its territory last month in a decision rejected by Kyiv and not recognized internationally.
Eleanor SlyOctober 14, 2022 12:05
1665744338
Elon Musk confirms pulling Starlink satellite internet service from SpaceX on Twitter
Elon Musk confirms reports that funding is being withdrawn from SpaceX's Starlink satellite internet service delivery in Ukraine on Twitter.
He responded to a tweet from a Kyiv post reporter, writing on Twitter "We are just following his recommendation."
This was in reference to Ukrainian diplomat Andrij Melnyk who said "F**k off is my very diplomatic response" to Mr Musk's Twitter poll he posted on October 3.
Eleanor SlyOctober 14, 2022 11:45 am
1665742789
Ukraine asks Red Cross to visit notorious prison
Ukrainian officials have urged the Red Cross to carry out a mission to a prison camp in Russian-occupied eastern Ukraine.
The chief of staff of the Ukrainian president, Andriy Yermak, called the Red Cross (ICRC) at Olenivka prison, located in Donetsk.
"We just can't waste any more time. Human lives are at stake," he tweeted.
Last month, the Red Cross tried to gain access to the camp, but said Russian authorities had denied them access.
In a statement released on Friday, the ICRC said: "We would like to stress that our teams are ready on the ground – and have been ready for months – to visit the Olenivka penitentiary establishment and any other place where prisoners of war are detained.
"However, beyond the access granted by high levels of authority, this requires practical arrangements to materialize on the ground. We cannot forcibly gain access to a place of detention or internment where we we were not admitted.
Eleanor SlyOctober 14, 2022 11:19 am
1665741612
Orphan saw father die, now awaits future in Ukraine shelter
A building in the reclaimed but devastated Ukrainian city of Izium is filled with people nearing the end of their lives. It stinks of unwashed sheets and unwashed skin and needs more warmth to fend off the approaching winter.
Despair hangs over its occupants like a blanket and the sound of crying echoes through its rooms.
Now an orphan wanders the cold halls among the old and infirm, his eyes firmly fixed on the phone in his hand. Until a few days ago, 13-year-old Bohdan had a father. Now he has no one.
Orphan saw father die, now awaits future in Ukraine shelter
A young disabled Ukrainian boy is now an orphan after his father died of cancer in the devastated eastern town of Izium
Eleanor Sly14 October 2022 11:00
1665739913
German Economy Ministry recognizes Rosneft lawsuit against Berlin
Germany's economy ministry said on Friday it took note of a lawsuit filed by Russian energy giant Rosneft against the government for taking control of its German unit, but did not yet received no document on this subject.
The ministry said the conditions for Germany to impose the trusteeship on the company were met in accordance with the Energy Security Act.
"The reason for this is the endangerment of the functioning of the energy supply and an imminent impairment of the security of supply," the spokesperson added.
Rosneft argued that Berlin's decision last month was unjustified given that the company had always met its oil delivery commitments, the Handelsblatt newspaper reported, citing the law firm hired by Rosneft, Malmendier Legal.
Eleanor SlyOctober 14, 2022 10:31 am
1665736758
"I won't chase Ukrainians despite my skyrocketing winter energy bill"
A Briton hosting four Ukrainians said his £350 monthly payment 'does not cover rising bills this winter' and called on the government for more support and clarity over his plans.
Several groups, including the Refugee Council, have expressed concern that the Homes for Ukraine program could be "silently axed" – despite the government saying the program is continuing.
However, a new refugee minister has yet to be appointed following Lord Harrington's departure and the cost of living crisis is set to be felt this winter for hosts like Steve Dury.
"I won't chase Ukrainians despite my skyrocketing winter energy bill"
Steve Dury said doubling the £350 monthly 'thank you' payment would 'help the situation massively'.
Eleanor SlyOctober 14, 2022 9:39 a.m.
1665735422
Gazprom says gas shipments to Europe via Ukraine will remain stable on Friday
Russia's Gazprom said gas shipments to Europe via Ukraine remain stable.
The company will ship 42.4 million cubic meters of gas to Europe via Ukraine on Friday, unchanged from recent days, it revealed.
Eleanor SlyOctober 14, 2022 9:17 a.m.
1665733150
Elon Musk suggests he pull Ukraine's internet service because ambassador was rude to him
Elon Musk's Starlink satellite internet will no longer be provided free to Ukrainians and has apparently asked the Pentagon to pay for it.
The news comes days after Ukrainian Ambassador Andrij Melnyk hit back at the multi-billionaire's proposal that Russia's invasion of Ukraine could be stopped by, among other things, formally allowing Russia to annex Crimea.
Mr Musk said he was "just following [the] recommendation" of the Ambassador of Ukraine.
Elon Musk suggests he pull Starlink from Ukraine because the ambassador was rude
Ukrainian Ambassador Andrij Melnyk told Elon Musk to "fuck it" after the billionaire suggested Russia be allowed to annex Crimea.
Eleanor SlyOctober 14, 2022 08:39
1665729856
Russia to evacuate Kherson region
Russia has said it will offer free accommodation to residents of Ukraine's partially occupied Kherson region who wish to evacuate in the face of continued and sustained Ukrainian military gains along the southern front.
Russian Deputy Prime Minister Marat Khusnullin made the announcement after the Russian-backed leader of Kherson – one of four Ukrainian regions illegally annexed by Moscow last month – asked Moscow to organize an evacuation of four towns. of the region.
In a video uploaded, Vladimir Saldo said: "Cities in the Kherson region – Kherson and Nova Kakhovka, Hola Prystan and Chornobaivka – are under daily missile fire.
"These missile strikes cause serious damage, first and foremost to the inhabitants. Among the targets hit by the missiles are hotels, residential buildings, markets – [places] where there are many civilians.
Mr Saldo said a decision had been made to evacuate residents of Kherson to the Russian regions of Rostov, Krasnodar and Stavropol.
They will also be evacuated to the annexed region of Crimea.
"I would like to ask you to help organize this process," he said. "We, the inhabitants of the Kherson region, of course know that Russia does not abandon its people, and Russia always offers a helping hand."
Eleanor SlyOctober 14, 2022 07:44
1665727523
Reports of missile falling near railway line in Belgorod region.
Rail operations came to a halt in the early hours of Friday near Novyi Oskol, a town in Russia's Belgorod region that borders Ukraine, when the remnants of a missile fell near the train tracks, according to Reuters.
According to Vyacheslav Gladkov, on the Telegram messaging app, anti-boat defenses shot down missiles near Novyi Oskol, a town of about 18,000 people located about 90 kilometers (56 miles) north of the border with Russia. 'Ukraine.
"The power lines are damaged. The trains are temporarily suspended," Gladkov said, adding that there were no casualties.
Reuters was unable to independently verify the information. There is apparently no immediate reaction from Kyiv either.
Eleanor SlyOctober 14, 2022 07:05