Russian-Ukrainian crisis live | Russia accuses Ukraine of torturing prisoners of war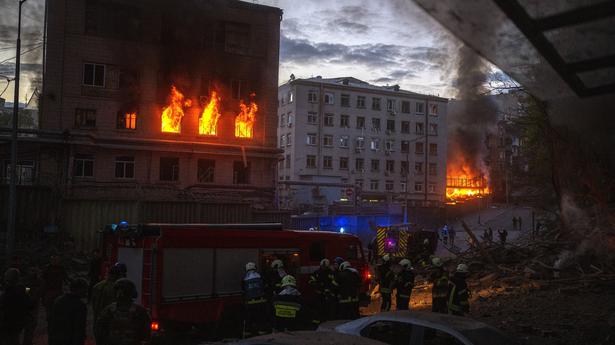 Here are the latest developments in the ongoing Russian-Ukrainian conflict on July 5

Here are the latest developments in the ongoing Russian-Ukrainian conflict on July 5

Ukrainian President Volodymyr Zelensky said on Monday that rebuilding his war-torn country was the "common task of the whole democratic world", as Ukraine's prime minister outlined a $750 billion stimulus package once the war with Russia over.
Ukrainian forces withdrew from the bombed city of Lysychansk, prompting Russia to claim full control of the eastern Lugansk region, a key Kremlin war objective, but President Volodymyr Zelensky has vowed to regain lost territory.
The battlefield now focuses on the neighboring region of Donetsk, where Kyiv still controls swathes of territory.
Here are the latest updates
Russia
The Duma approves for the first time the laws directing Russia towards the war economy

Russian lawmakers on Tuesday gave the first stamp of approval to two bills that would allow the government to force companies to supply goods to the military and their employees to work overtime to support the Russian invasion of the Ukraine.
The moves come more than four months after what Russia calls its "special military operation", which prompted Western countries to impose a wave of sanctions against Moscow.
One of the bills – approved in the first reading by the State Duma, the lower house of parliament – stipulated that the state could impose "special economic measures" during military operations, obliging companies to supply goods and on-demand military services. of the Russian government.- Reuters
Russia
IKEA reopens for online fire sale in Russia ahead of market release

IKEA will open its doors for the last time in Russia on Tuesday, with customers allowed to buy goods at an online-only sale before the Swedish furniture company winds down operations in a market it hopes for a day come back.
"From July 5, for a few weeks, you can only buy IKEA products on ikea.ru," IKEA said on its Russian website. "Goods will be for sale as long as they are in stock." -Reuters
Russia
Russia accuses Ukraine of torturing prisoners of war

Russia said on Tuesday it was investigating the torture of Russian soldiers detained in Ukraine and recently released as part of a prisoner swap with Kyiv in late June.
Russia's Investigative Committee, which investigates major crimes, said in a statement that it was "verifying the facts of inhumane treatment of Russian soldiers taken prisoner in Ukraine". -AFP
Russia
FSB official takes control of Moscow-occupied Kherson region

An official of Russia's powerful FSB security services has seized power in the Moscow-occupied Kherson region of southern Ukraine, Kremlin-installed authorities announced on Tuesday.
Sergei Yeliseyev, until now deputy head of government in the Russian enclave of Kaliningrad, "has become head of government in the Kherson region", said Vladimir Saldo, who heads the Russian labor administration. -AFP
International
NATO to sign accession protocols for Sweden and Finland

The 30 NATO allies are due to sign Sweden and Finland's membership protocols on Tuesday, sending the two countries' membership applications to alliance capitals for legislative approval.
The move will further reinforce Russia's strategic isolation following its invasion of neighboring Ukraine in February and the military struggles that have unfolded there since. -AP
International
Gas consumption set to contract due to Russia (IEA)

Gas consumption will contract slightly this year due to high prices and Russian cuts in Europe, with only slow growth over the next few years as consumers turn to alternatives, the IEA said on Tuesday.
The International Energy Agency more than halved its forecast for global gas demand in its latest quarterly gas markets report. -AFP
UK
UK says to strengthen internet laws to tackle Russian misinformation

Britain is proposing a new law that will require social media companies to proactively tackle misinformation posted by foreign states such as Russia, the government announced on Monday.
The law would tackle fake accounts on platforms such as Meta's Facebook and Twitter that were created on behalf of foreign states to influence elections or court proceedings, the government said. -Reuters
Ukraine
Zelenskiy says Ukraine is in talks with Turkey and the UN over grain exports

Ukraine is in talks with Turkey and the United Nations to obtain guarantees for grain exports from Ukrainian ports, President Volodymyr Zelenskiy said on Monday.
"There are actually talks going on with Turkey and the UN (and) our representatives who are responsible for the safety of grain leaving our ports," Zelenskiy told a press conference alongside the Swedish Prime Minister Magdalena Andersson. -Reuters
UK
UK adds six people and company to Russia sanctions list

Britain has added the names of six people and one company to its list of people and companies subject to an asset freeze following Russia's invasion of Ukraine.
The measures allow "the freezing of funds and economic resources of certain persons, entities or bodies involved in the destabilization of Ukraine (…) or in obtaining an advantage or the support of the Russian government", a said the British Ministry of Finance. -Reuters
UK
UK Foreign Secretary Says Russians Must Be Responsible for War in Ukraine

Russia must help pay for the damage it inflicted on Ukraine during its "dreadful war", while Kyiv also needed help to revive its struggling economy, Britain's business secretary told Reuters on Monday. foreign Liz Truss.
"Russia must be held responsible for this appalling war," Ms Truss said on the sidelines of the Ukraine Recovery Conference in Lugano. "We are examining options for the deployment of Russian assets." -Reuters