The NBU and the European Union discuss the state of the Ukrainian economy in wartime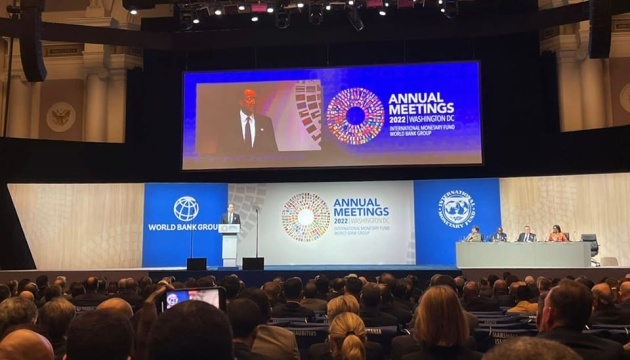 Representatives of the National Bank of Ukraine and the European Union discussed the state of the Ukrainian economy amid the full-scale war.
"To keep you up to date with the IMF and World Bank Group Annual Meetings, here is an overview of the events that took place on Friday. The NBU team at the annual meeting is represented by Deputy Governors Sergiy Nikolaychuk and Yuriy Heletiy, as well as Volodymyr Kuchyn, Head of the Office for European Integration and International Programs," the NBU said on Facebook.
NBU representatives met with Elena Flores, Deputy Director General, Economic and Financial Affairs, European Commission.
The parties discussed the state of the Ukrainian economy amid the full-scale war. Elena Flores assured the NBU team that the EU will continue to provide Ukraine with full support and funding.
Read also: Minister Marchenko elected Governor for 2023 to the Board of Governors of the World Bank, IMF
NBU representatives thanked the EU for its assistance, including the unprecedented macro-financial assistance program, support for Ukraine's European integration aspirations and the sanctions imposed on the aggressor country. Various aspects of the implementation of the EU-Ukraine Association Agreement in the financial sector were also discussed.
Preliminary work with the IMF mission also continued yesterday. "The discussion focused on the agenda of the joint efforts in Vienna planned for next week, macroeconomic trends, the situation of the domestic financial market, the transmission of policy rate changes to market instrument yields and the dynamics of public debt in the internal market," reads the statement.
The NBU team also had a number of meetings with international investors and financial industry professionals, including those from investment firm Goldman Sachs, Bank of America and Raiffeisen International Group. There was also a meeting with the financial company Clearstream.
The NBU team also participated in the plenary session, the central event of the annual meeting. In addition, they attended the meetings of the International Monetary and Financial Committee and the meeting of the IMF and World Bank constituency which includes Ukraine.
As noted, the meetings focused on the global economic outlook, global inflation forecasts, challenges for countries' monetary and fiscal policies, and cooperation to help nations suffering from the food crisis triggered by the large-scale war in Russia against Ukraine.
oh