Ukraine crisis: US warns 'drumbeats of war' ring out as talks with Russia end without breakthrough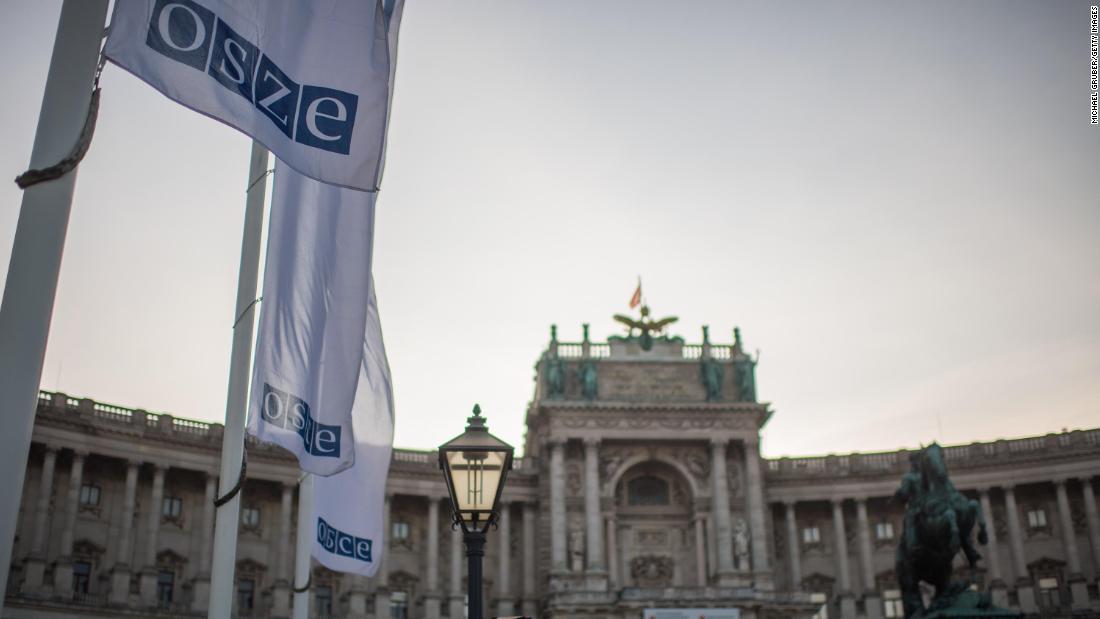 US and Russian officials expressed pessimism about the talks following Thursday's meeting in Vienna at the Organization for Security and Cooperation in Europe (OSCE). It was the third session that capped a week of intensive meetings that the United States and its NATO allies hoped could spur Russia to continue down a path of 'de-escalation and diplomacy' rather than mobilizing. the tens of thousands of Russian soldiers whose presence has increased. along the borders of Ukraine.
But Russian officials reacted with frustration and impatience after the meetings, suggesting they were close to abandoning talks about the US and NATO's refusal to meet Moscow's key demands: a guarantee that Ukraine will never be allowed to join NATO and that the alliance backs down its expansion into Eastern Europe. The United States and its NATO allies have repeatedly stated that such proposals from Moscow are unfounded.
Russian Deputy Foreign Minister Sergei Ryabkov suggested the talks ended in "an impasse or a difference of approaches" because the United States and NATO would not respond to Moscow's demands that Ukraine would never join NATO, he said, according to Russian state media TASS. Ryabkov said he saw no reason for the two sides to continue talks, even though the United States has suggested they will continue beyond this week.
After Thursday's session, US Ambassador to the OSCE Michael Carpenter told reporters that "the drum of war is ringing loudly and the rhetoric has gotten rather shrill."
"We have to take this very seriously," Carpenter said of the Russian troops gathering along the border with Ukraine. "We have to prepare for the possibility of an escalation."
Polish Foreign Minister Zbigniew Rau, chairman of the OSCE, warned after Thursday's meeting that "the risk of war in the OSCE area is now greater than at any time in the past 30 years."
Diplomatic efforts this week – which included separate sessions between Russia and the United States, NATO and the OSCE – were aimed at removing Russia from a possible invasion of Ukraine. But Russia has not committed to withdrawing more than 100,000 troops now along the border, and the Russian military conducted live-fire exercises along the border this week as talks continued.
"The jury does not know which way Vladimir Putin will choose"
US officials made it clear ahead of the talks that they were unsure whether Russia was serious about diplomacy or simply planned to use the sessions as a pretext for military action.
"The jury decides which path Vladimir Putin will choose," Secretary of State Antony Blinken said in an interview with MSNBC on Thursday. "Will he choose the path of diplomacy and dialogue to resolve some of these problems or will he continue with confrontation and aggression?"
National Security Adviser Jake Sullivan told reporters at the White House on Thursday that the United States and its allies remain prepared for any outcome after talks this week.
"Discussions were frank and direct. They were helpful. They gave us and our allies something to consider; they gave Russia something to consider," Sullivan said. "We will now reflect and consult with our allies and partners on how to proceed," Sullivan told reporters at the White House.
Sullivan said the Biden administration plans to share information about Russian disinformation operations soon that could lay the groundwork for a pretext to invade Ukraine. "Our intelligence community has developed information, which has now been declassified, that Russia is laying the groundwork for the possibility of fabricating the pretext for an invasion," Sullivan said.
A senior US official said that over the past few days Russia had "continued to increase its capacity" near the border. The official said it was not a "substantial" number of troops or equipment, but it is a signal the Kremlin is not defusing.
Russia's next move still unclear
It remains unclear what the United States plans to do if Russia does not defuse but also invade Ukraine. Throughout the week, US officials said Russia would face consequences the likes of which they had never seen if an invasion occurred. But the Biden administration does not plan to impose costs on Russia as a deterrent.
A senior State Department official said nothing would change that approach.
"I don't think there's any desire to impose sanctions or consequences before Russian action on the ground. I don't think that would be a productive path," the official told CNN. "I think we maintain leverage if we reserve the right to impose those consequences following an escalation."
The head of the US delegation, Assistant Secretary of State Wendy Sherman, told reporters after the NATO talks that the Russians themselves might not yet know what their next move would be. Throughout this week's talks, the United States has repeatedly asserted that diplomacy can only take place if Russia defuses itself, which Sherman said on Monday that the United States defined as Russia dismissing its troops in barracks or telling the United States "that the exercises are underway and what their purpose is." is."
After Wednesday's NATO meeting, Sherman said Russia was not committed to any de-escalation.
Senior Biden administration officials have made it clear they expect talks to continue in the near future, without providing details on what those talks might look like.
"We expect to have additional engagement with the Russian Federation in the coming days. We hope that engagement takes place, we hope this diplomatic track continues, but more importantly, we hope it bears fruit." , State Department spokesman Ned Price said. Wednesday.
Russia says US demands 'unacceptable'
Russian Foreign Minister Sergei Lavrov replied on Thursday that the American demands were "unacceptable".
"I don't think we need to explain how absolutely unacceptable such demands are and, of course, we won't even discuss them," Lavrov said.
U.S. officials expressed hope that discussions on areas of mutual interest between Russia and the United States – including nuclear weapons, mid-range missiles, and transparency on military exercises – could keep the conversations going. diplomatic. NATO leaders noted that Wednesday was the first time Russia had agreed to a meeting with the alliance in two years and they attended the four-hour meeting, which was longer than expected.
"I think the reality is that I will say that the Russian delegation attended almost four hours of a meeting where 30 nations spoke, and they did, which is not an easy thing to do. do, "she said on Wednesday.
But if it made it seem like Russia was open to compromise positions, Russia quickly poured cold water on it.
"The United States and its NATO allies are not ready to meet Russia halfway on key issues," Ryabkov said on Thursday, according to state news agency TASS. "The main problem is that the United States and its NATO allies, under no circumstances, for whatever reason, are not prepared to meet our major demands."
Blinken had warned ahead of the talks that no breakthrough was expected this week "in an atmosphere of escalation with a gun pointed at Ukraine's temple."
While Russia and NATO seemed to be talking to each other, the language they used illustrated how distant they remained from each other. Russia had proposed specific treaty language in the weeks leading up to the meetings and called them "negotiations", while Sherman countered that no formal conditions had been put forward in what she described as "discussions ".
Sherman said earlier in the week that she didn't know if the Russians had come to the table for the three days of talks in good faith, or as a pretext to try to justify future military action.
"If Russia leaves, however, it will be quite obvious that it was never serious about pursuing diplomacy," she said. "That's why we are collectively preparing for any eventuality."
CNN's Anna Chernova, Zahra Ullah, Mick Krever, Barbara Starr and Sam Fossum contributed to this report.