Ukrainian economy: Westward tilt has increased since the 2005 revolution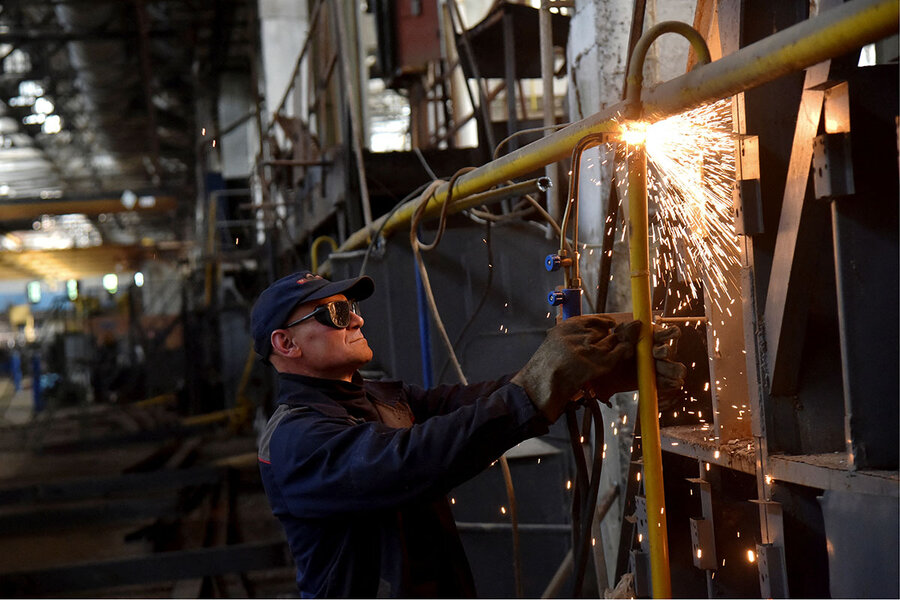 Russian President Vladimir Putin has gotten a lot wrong with Ukraine, but he has succeeded in one thing: the nation is moving further and further away from Russia and towards the West, not only politically but also economically.
The current Russian war effort is focused on eastern Ukraine, taking a heavy toll of human suffering and artillery destruction in a region that has long had close economic ties with Russia.
Today, however, Ukraine is selling more to Europe. Since 2005, in the aftermath of the Orange Revolution protests that nullified the election of the Moscow-backed presidential candidate, the economy's center of gravity has shifted westward. (See Table 1 below.)
Why we wrote this
The backdrop to Vladimir Putin's invasion of Ukraine is partly economic: a people long attached to Russia are increasingly looking to the European Union for trade and business opportunities.
This change was accompanied by a change in the composition of Ukraine's exports, points out a recent report by Harvard Growth Lab and Complexity Science Hub Vienna. It sold some of its most complex manufactured products to Russia: cars, planes, etc. Today, it increasingly sells agricultural products and electronics to Germany and other European countries. (See Table 2.)
This change was not easy. Gross domestic product per capita peaked in 2013, then fell with Russia's takeover of Crimea in 2014.
The economic toll has been particularly heavy in the eastern part of the country, home to the largest concentrations of ethnic Russians, the Donbass industrial zone and eight years of war between the government and Moscow-backed separatists. In general, the eastern provinces (or oblasts) bordering Russia have seen the largest declines in businesses and jobs. The center of the country has stagnated and the northwest oblasts closest to Europe have grown since 2011. (See Chart 3.)
The outcome of the war may well determine whether this economic change continues.