Ukrainian news live: Russian 'advanced force' already in the country, says UK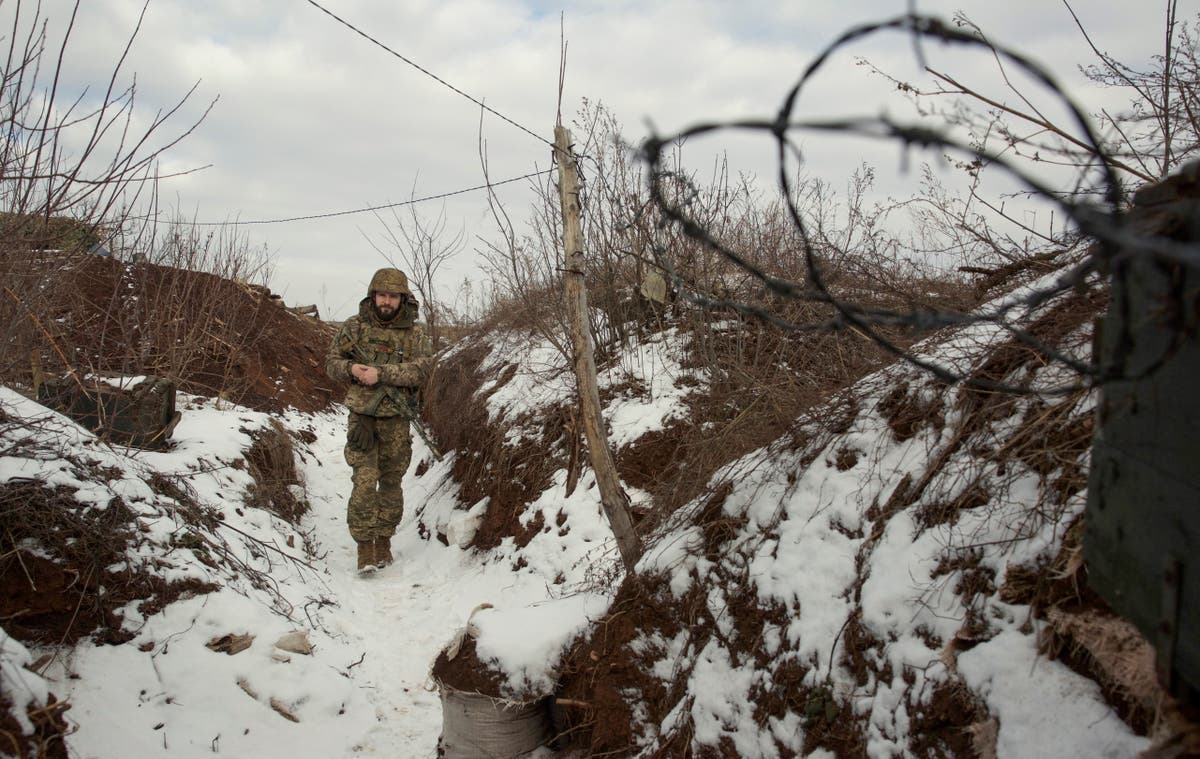 US will take 'swift and severe' action if Russia invades Ukraine, State Department warns
Elements of an "advanced Russian military force" are already inside Ukraine, a British defense minister has warned.
write in The sun newspaper, Armed Forces Minister James Heappey said: "We are becoming aware of a significant number of individuals who are assessed to be associated with Russian military force operations and currently located in Ukraine."
His warning comes as about 8,500 US troops have been put on alert for a possible deployment to Eastern Europe, according to Pentagon spokesman John Kirby.
US officials have warned that Russia could launch an imminent invasion of Ukraine.
The "major part" of the thousands of soldiers placed on heightened alert is planned to reinforce the 40,000 NATO multinational troops already present in a number of Eastern European countries near the border with Russia, said said Mr. Kirby.
But he stressed that no final decision to deploy the troops had been made.
NATO allies have said they are putting forces on standby and sending additional ships and fighter jets to Eastern Europe.
1643107675
Kremlin expressed 'great concern' over US troops on high alert
The Kremlin has expressed concern about an "escalation of tensions" due to Washington's decision to put 8,500 troops on alert.
Kremlin spokesman Dmitry Peskov told reporters on Tuesday: "We are watching these US actions with great concern."
Holly BancroftJanuary 25, 2022 10:47 am
1643106474
Hacking group 'claims control of Belarusian railways to disrupt Russia'
A group of pro-democracy hackers calling themselves "Cyber ​​Partisans" claimed on Monday that they had infiltrated the Belarusian railway network with the aim of "disrupting" the movement of Russian troops in the country.
The hackers claimed they had encrypted some of the railways' "servers, databases and workstations".
They said they would bring the network back to normal if 50 political prisoners were released and the Russian army was banned from Belarus.
Russian military convoys have arrived in the country for exercises.
Some customers were reportedly unable to use parts of the Belarusian Railways website.
Holly BancroftJanuary 25, 2022 10:27 a.m.
1643105456
Gordon Brown: 'The only thing Putin understands is strength'
Former Prime Minister Gordon Brown has argued that a "show of force" is needed from NATO if President Vladimir Putin is to back down on Ukraine.
He added that "the financial and economic sanctions are going to have to be so severe that Russian autocrats, Russian oligarchs, and Putin himself and his government will be affected."
Mr Brown recalled that in his own dealings with Mr Putin, the Russian leader "would not cooperate in any way".
He said ITV's Good Morning Britain: ""You must be able to stand up to him. Do you remember the assassinations on British soil? He was going to murder other people if we hadn't resisted him. The only thing Putin understands is strength.
"Maybe belatedly the right thing to do is a show of NATO strength and NATO unity, and that's something to fight for and make it clear that we won't accept not the Russian incursions."
Agencies contributed to this report.
Holly BancroftJanuary 25, 2022 10:10 a.m.
1643104472
Invading Ukraine would hurt Putin's popularity at home, ex-British army chief says
President Vladimir Putin may avoid an invasion of Ukraine for fear it will hurt his popularity in Russia, the former British army chief has said.
Lord Dannat said Times Radio that Putin was "very powerful" but "does not have universal popularity".
He added: "There is a whole opposition movement against him.
"If Russian television screens are filled with body bags and casualties returning from a bloody incursion into Ukraine, it will damage his popularity and reputation instead of strengthening his position – so he has a calculation to make."
Lord Dannatt said he believed the Ukrainians would "fight and fight hard" if Russia tried to invade.
Holly BancroftJanuary 25, 2022 9:54 a.m.
1643103356
UK PM in crisis talks with EU, US and NATO
On Monday, Prime Minister Boris Johnson spoke with his EU, US and NATO counterparts about the Ukraine crisis.
Mr Johnson took part in a video call with his American, French, Italian, German and Polish counterparts. The President of the European Commission and the Secretary General of NATO were also present.
The leaders agreed they would provide "swift responses" and an "unprecedented set of sanctions" if Russia invades Ukraine.
Downing Street said Boris Johnson 'highlighted the real human cost of any Russian aggression' at the meeting. He also "stressed the need to support Ukraine's defenses against the full range of Russia's malign activities".
Holly BancroftJanuary 25, 2022 9:35 a.m.
1643102756
Why was Germany reluctant to supply arms to Ukraine?
Germany's refusal to join other NATO members in supplying arms to Ukraine has annoyed some allies and raised questions about Berlin's determination to stand up to Russia
Germany's position on arms deliveries "does not correspond to the level of our relations and the current security situation", Ukrainian Foreign Minister Dmytro Kuleba said on Twitter.
Read the analysis of Germany's position Associated press here:
Holly BancroftJanuary 25, 2022 9:25 a.m.
1643101877
UK Defense Secretary: 'Russian military associates are already in Ukraine'
UK Armed Forces Minister James Heappey said a "significant" number of individuals associated with the "Russian force's advanced military operations" are already in Ukraine.
Write in a piece for The sun newspaper, Mr Heappey said the UK government would 'expose' Russian plans where 'we see them'.
Russian forces now encircle Ukraine from three sides
Holly BancroftJanuary 25, 2022 9:11 a.m.
1643100350
Could sanctions deter Russia?
Jonathan Fisher QC of Bright Line Law said sanctions against Russia would be "far better than waging wars or dropping bombs on people".
"Politically, sanctions are being used as a foreign policy instrument that has replaced the gunboat," Fisher said.
"But what difference do they make? It is true that sanctions are a nuisance. If Russia is denied access to capital markets or banking systems, it will be a serious frustration for Putin and hamper the country's development. Sanctions also impact ordinary members of the public, such as their access to services and goods and their general financial well-being. Sanctions can also lead to runaway inflation (as we saw recently in Iran) and all of this can be very damaging.
"However, sanctions will rarely strike a decisive blow. They're doing damage, but there aren't many cases where they've made the change in direction that those imposing the sanctions want. There will always be situations where the world will not act as one, and there are a number of alternatives for Russia. It could, for example, turn to Shanghai and Hong Kong instead of New York and London. Countries will always seek alternatives, and the larger the country, the greater its ability to find those alternatives.
"In summary, the sanctions will have an effect – but will they achieve the ultimate goal? That remains to be seen. They rarely deliver a knockout blow.
Thomas KingleyJanuary 25, 2022 8:45 a.m.
1643099450
Delay in creating new cybersecurity council raises concerns
It's a key part of President Joe Biden's plans to combat major ransomware attacks and digital espionage campaigns: create a committee of experts that would investigate major incidents to see what went wrong and try to prevent problems from recurring – a bit like a transport safety board. done with plane crashes.
But eight months after Biden signed an executive order creating the Cybersecurity Review Board, it still hasn't been set up.
Some supporters of the new board say the delay could harm national security and comes amid growing concerns over a potential conflict with Russia over Ukraine that could involve nation-state cyberattacks.
Read the full report below:
Thomas KingleyJanuary 25, 2022 08:30
1643098550
Democrat says Tucker Carlson fans are calling on him to side with Russia as it threatens Ukraine
Tucker Carlson is increasingly urging Americans to side with Russia in the simmering crisis in Ukraine, according to a US congressman.
"My office is now getting calls from people who say they are watching Tucker Carlson and are upset that we are not on Russia's side in their threats to invade Ukraine, and who want me to support the 'reasonable' positions. "from Russia," Tom Malinowski, a former Democratic diplomat and current New Jersey representative, wrote on Twitter Monday.
Our reporter, Josh Marcus, has the full story below:
Thomas KingleyJanuary 25, 2022 8:15 a.m.