Ukrainian news – live: Russian airstrikes hit Kyiv in 'symbolic' attack at start of G7 summit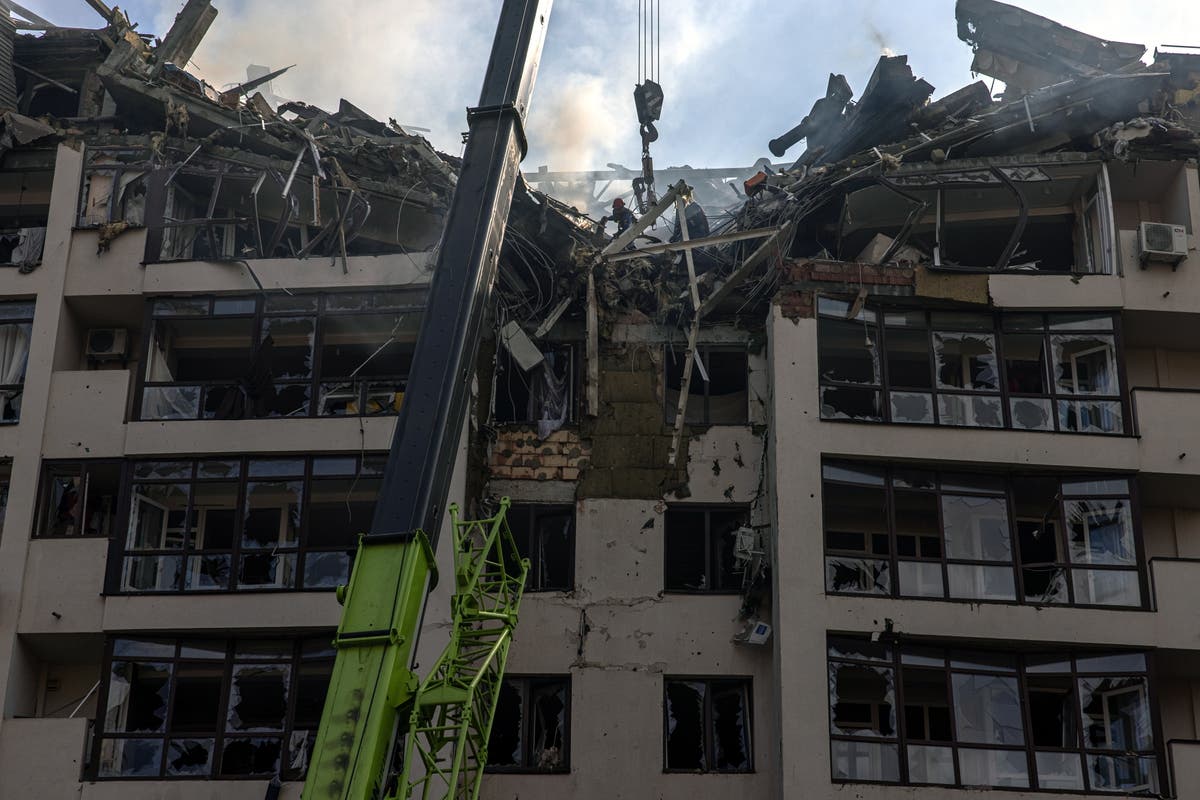 'Putin is weaponizing hunger': Liz Truss blames Russia for food shortages
Russia launched airstrikes on the Ukrainian capital Kyiv in a "symbolic" attack at the start of the G7 summit.
Ukrainian officials said 14 missiles were launched against the capital and the region on Sunday morning.
Ukrainian police chief Ihor Klymenko told state television that five people were injured, and police later said one person was killed in the airstrikes. Prior to Sunday's early morning attack, Kyiv had not faced such Russian airstrikes since June 5.
Kyiv Mayor Vitali Klitschko told reporters he thought "it may be a symbolic attack" ahead of this week's NATO summit in Madrid.
It comes as Boris Johnson has urged EU leaders to step up military support for Ukraine amid fears a 'bad peace' will be agreed due to war fatigue now lasts for five months.
And Russian President Vladimir Putin has further heightened international tensions by promising to arm his Belarusian ally with nuclear-capable Iskander-M missile systems on the Ukrainian border.
Belarus has also requested an upgrade of its air force, with the aim of making it nuclear.
1656261906
Watch: Zelensky asks for more G7 help during 'difficult phase of war'
Ukraine: Zelensky calls for more help from the G7 during the "difficult phase of the war"
Aisha RimiJune 26, 2022 5:45 p.m.
1656259986
UK ready to vouch for $525m loan to Ukraine
The UK government has said it is ready to provide an additional $525m (£429m) in guarantees for World Bank loans to Ukraine later this year.
Boris Johnson said: "Ukraine can and will win. But they need our support to do so. Now is not the time to give up on Ukraine.
"The UK will continue to support Ukraine every step of the way because we know their security is our security and their freedom is our freedom."
Aisha RimiJune 26, 2022 5:13 p.m.
1656258186
'We have to stick together': Biden on the alliance behind Ukraine
President Biden hailed the global alliance's continued unity in the face of Russia, as he and other G7 leaders mapped out a strategy to maintain pressure in their efforts to isolate Moscow during its invasion of Russia. Ukraine that lasted for months. "We have to make sure we all stick together," Biden said during a pre-summit meeting with German Chancellor Olaf Scholz, who holds the rotating G7 presidency and is organizing the rally. "You know, we're going to keep working on the economic challenges we're facing, but I think we'll get through all of this." Scholz replied that the "good message" is that "we all managed to stick together, which Putin did not expect". "We have to stick together, because Putin counted, from the beginning, on the split of NATO and the G7, but we did not do it and we are not going to do it," replied Mr. Biden. "We can't let this aggression take the form it has and get away with it," Biden added.
Aisha RimiJune 26, 2022 4:43 p.m.
1656256446
PM: Putin conquering parts of Ukraine would be 'absolutely catastrophic'
Speaking to CNN at the G7 summit, Boris Johnson was asked how so-called Ukraine fatigue could be tackled in the West, and whether he feared rising energy prices would push the Americans and the British to decide that it was not worth fighting.
He said: "If we let Putin get away with it, and just annex, conquer, significant parts of a free, independent, sovereign country, which he is about to do, if not everything, then the consequences for the world are absolutely catastrophic.
Aisha RimiJune 26, 2022 4:14 p.m.
1656254723
"Let's show our pecs!" Boris Johnson and Trudeau mock Putin's topless riding
Boris Johnson and Justin Trudeau were seen poking fun at Vladimir Putin at the G7 summit in Germany, joking about his infamous shirtless horse riding photographs.
As the leaders sat together at Schloss Elmau in the Bavarian Alps on Sunday, the British Prime Minister wondered if they should keep their suit jackets on.
Warming up to his theme, Mr Johnson then added: 'Are we going to take our clothes off? – before suggesting: "We all have to show that we are tougher than Putin.
Joe MiddletonJune 26, 2022 3:45 p.m.
1656253034
One person died after Russian missiles hit Cherkasy
Russian missiles struck near the central Ukrainian city of Cherkasy on Sunday, killing one person and hitting a bridge that helps connect western regions with eastern combat zones, Ukrainian officials said.
Cherkasy has been largely spared bombardment since the war began in February, but Russia stepped up missile attacks across Ukraine over the weekend.
"Today the enemy launched missile attacks on the Cherkassy region. There are 2 strikes near the regional center. One dead and five injured. Damaged infrastructure," regional governor Ihor Taburets said on the Telegram app.
He did not provide further details, but a presidential adviser told Reuters that one of the missiles targeted a bridge over the Dnipro River.
"They are trying to limit the transfer of our Western reserves and weapons to the East," adviser Oleksiy Arestovych said in a message.
"It means these types of transfers are going well and causing major problems for them."
Joe MiddletonJune 26, 2022 3:17 p.m.
1656249619
Boris Johnson and Justin Trudeau mock Putin's 'shirtless horse rides'
Boris Johnson and Justin Trudeau mock Putin's 'shirtless horse rides'
Joe MiddletonJune 26, 2022 2:20 p.m.
1656247930
Ukraine peace deal would give Putin 'license to manipulate', Boris Johnson tells Macron
Boris Johnson has warned Emmanuel Macron that any attempt to settle the conflict in Ukraine will now give Russian President Vladimir Putin "permission to manipulate" other countries.
The prime minister told the French president the compromise 'would only cause lasting instability' as the pair met to discuss the war at the G7 summit in Germany.
Mr Macron has been criticized for negotiating with Putin at the start of the invasion and saying Russia should not be "humiliated" – raising fears that Ukraine could be pressured into giving up territory.
sam rcainaJune 26, 2022 1:52 p.m.
1656244343
Putin 'could be overthrown in secret plot by inner circle', claims former CIA chief
Vladimir Putin could be overthrown by a secret plot by his own inner circle, a CIA insider has claimed.
Former Moscow station chief Daniel Hoffman claimed that Putin's comrades would seek to oust him if the Russian invasion of Ukraine failed.
Hoffman said such an attempt to overthrow the president would be sudden, quick and potentially deadly.
sam rcainaJune 26, 2022 12:52 p.m.
1656242079
Putin 'hopes the West will separate' as war drags on, Biden warns
Russian President Vladimir Putin hopes the West will 'divide' as his invasion of Ukraine drags on, Joe Biden has warned
Speaking at the G7 summit in Germany, the US president hailed allies who stuck together and resisted the Kremlin through four months of war, slapping sanctions on Russia while sending arms to Ukraine.
Greeting German Chancellor Olaf Scholz on Sunday, Mr Biden praised his counterpart for helping to keep the pressure on Russia and urged him to keep going – a central message from his five-day trip to meet with allies at summits in Germany and Spain.
Mr Biden warned: "We have to stick together, because Putin has been counting from the start on NATO and the G7 breaking up one way or another.
"But we haven't and we're not going to.
"We can't let this aggression take the form it has and get away with it."
Mr Scholz, who hosts the annual Group of Seven summit in the Bavarian Alps, greeted Mr Biden on a balcony overlooking what the US president called a "magnificent" view of lush vegetation and towering peaks.
Mr Biden thanked Mr Scholz for helping Europe stand up to Russia, saying his tough response "had a big impact on the rest of Europe to get moving".
Meanwhile, EU leaders used the summit to reaffirm the bloc's "unshakable unity" in support for Ukraine.
European Council President Charles Michel said the EU was providing money and political support to Kyiv, adding: "Ukraine needs more and we are committed to providing more."
sam rcainaJune 26, 2022 12:14 p.m.