Ukrainian news: Russia 'carries out secret work' on nuclear power plant, as US prepares to send anti-aircraft missiles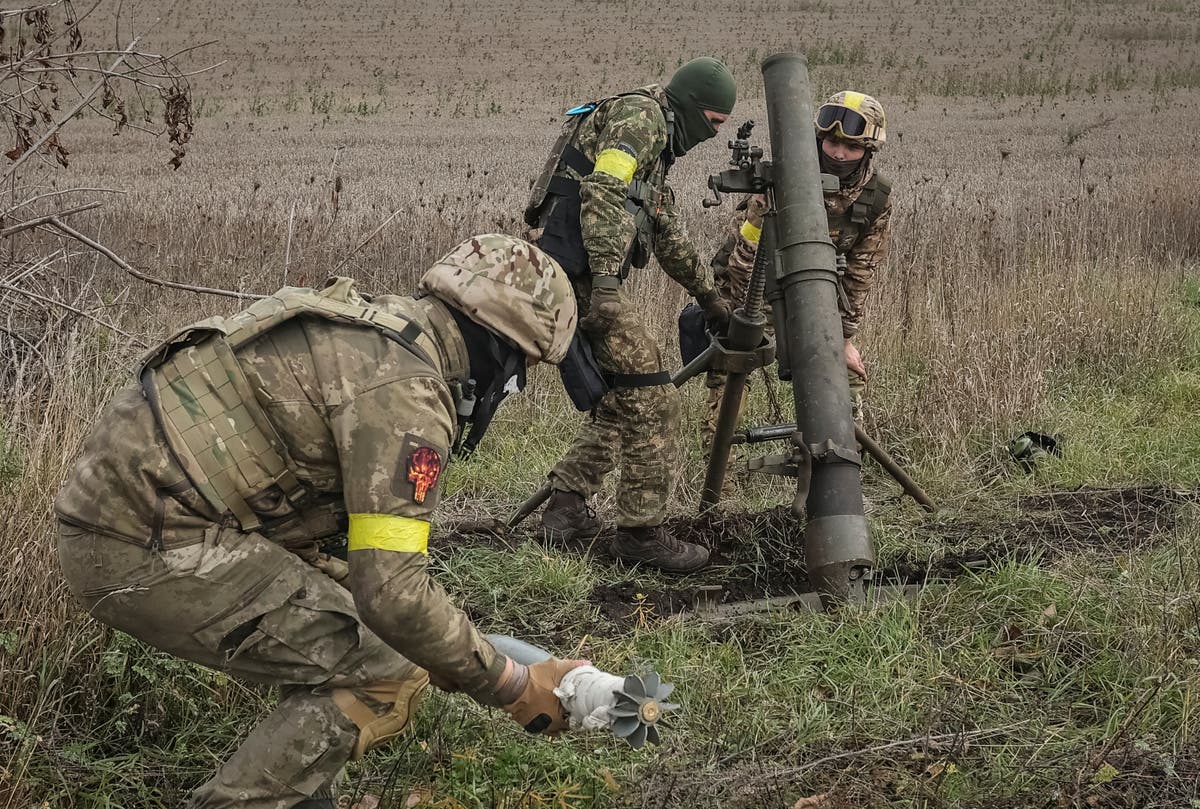 Russian pilot ejects from burning fighter jet after 'cutting power line' and crashing
Ukraine's nuclear power operator has warned that Russia could make its own 'dirty bomb' at an occupied nuclear power plant, after accusing Kyiv of planning to use such a device in a false flag attack on its own soil .
Energoatom, which operates the Kremlin-owned Zaporizhizhia power station, said Russian forces carried out secret work at the facility that the operator suspects involves spent nuclear fuel.
The energy firm said it "assumes… [the Russians] prepare a terrorist act by using nuclear materials and radioactive waste stored at [the plant]."
The foreign ministers of France, Britain and the United States have dismissed Russia's 'dirty bomb' claims as 'transparently false' and aimed at laying the groundwork for an escalation in the war of nine months.
Meanwhile, Washington is considering sending longer-range air defense missiles to Ukraine to defend against a Russian bombing campaign that has damaged vital energy infrastructure across the country.
Reuters reported that two US officials said the Hawk interceptor missiles could be removed from storage as part of an upgrade to the Stinger missiles sent so far.
1666680552
Nuclear inspectors to investigate 'dirty bomb' claims
The UN nuclear watchdog is preparing to send inspectors in the coming days to two Ukrainian sites at the request of Kyiv, after Russia claimed that Ukraine could deploy a "dirty bomb" during a false flag attack.
"The International Atomic Energy Agency (IAEA) is aware of statements made by the Russian Federation on Sunday regarding alleged activities at two nuclear sites in Ukraine," the IAEA said in a statement, adding that the two were already subject to its inspections and that one was inspected a month ago.
"The IAEA is preparing to visit the site in the coming days" to search for possible undeclared nuclear activities and materials, he added.
Russian state media said the two sites involved in the operation were the Eastern Mineral Enrichment Plant in central Dnipropetrovsk and the Kyiv Nuclear Research Institute.
The IAEA did not name the facilities it would inspect.
Liam JamesOctober 25, 2022 07:49
1666682486
Moscow will file a complaint for "dirty bomb" with the UNSC
Russia plans to raise its "dirty bomb" claim today before the UN Security Council (UNSC) after being rebuffed by its Ukrainian allies.
Kremlin Ambassador to the UN Vassily Nebenzia sent a letter to the United Nations late at night over his allegation that Ukraine used a radioactive explosive on its own territory to blame Moscow for the nuclear war.
"We will consider the Kyiv regime's use of the dirty bomb an act of nuclear terrorism," Nebenzia wrote to UN Secretary-General Antonio Guterres and the UNSC in the letter, seen by Reuters.
Ukrainian President Volodymyr Zelensky said Russia's claim suggested Moscow was planning to launch such an attack and blame Kyiv.
The foreign ministers of France, Britain and the United States dismissed Moscow's allegations as "manifestly false".
"The world would see through any attempt to use this allegation as a pretext for escalation," they said in a joint statement.
Later, the United States issued a warning to Moscow. "We have been very clear with the Russians … about the serious consequences that would result from the use of nuclear power," said State Department spokesman Ned Price. "There would be consequences for Russia whether it uses a dirty bomb or a nuclear bomb."
Liam JamesOctober 25, 2022 8:21 a.m.
1666684466
German President pays surprise visit to Kyiv
German President Frank-Walter Steinmeier has arrived in Ukraine for a surprise visit, his first since Russia invaded the country on February 24, his office said in a statement.
Steinmeier said he looked forward to meeting Ukrainian President Volodymyr Zelensky.
"My message to the Ukrainian people is: you can count on Germany!" he said in the statement.
Besides military support, Steinmeier added, his trip would focus on repairing destroyed infrastructure, such as power grids, water pipes and heating systems, as quickly as possible before the arrival of the enemy. winter.
The German president was due to visit last Thursday, but the trip was canceled at short notice after the Russian bombardment of Kyiv. German Chancellor Olaf Scholz has already visited Ukraine.
Liam JamesOctober 25, 2022 08:54
1666686326
Russia turns to high-risk helicopter attacks on frontline – MoD
Russia is likely to turn to risky helicopter attacks to bolster its frontline troops in Ukraine as Moscow struggles to take control of the skies, the UK Ministry of Defense (MoD) has said.
Strikes by Russian aircraft have so far proved ineffective on the front line, while Moscow's artillery stocks are running low, the Defense Ministry said.
Attack helicopters often fly in high-risk conditions without the level support expected from jet aircraft, the Defense Ministry said, pointing to heavy losses to Russia's air fleet.
"There have been at least 23 verified losses of the Russian Ka-52 Hokum attack helicopter in Ukraine since the invasion. Russian air force and nearly half of total Russian helicopter losses in Ukraine," the Defense Ministry said.
Liam JamesOctober 25, 2022 9:25 a.m.
1666689621
EU chief calls for reconstruction of Ukraine
Ursula von der Leyen, President of the European Commission, urged international partners to help Ukraine rebuild quickly.
"We have no time to lose, the scale of the destruction is staggering. The World Bank puts the cost of the damage at 350bn euros (£304bn)," she told a Ukraine reconstruction conference in Berlin.
Volodymyr Zelensky, appearing on a video link, said Russia had destroyed a third of Ukraine's energy sector and complained that Kyiv had not seen 'a single penny' of a rapid recovery fund demanded from a value of 17 billion euros.
Ms von der Leyen said the EU would send €1 billion in emergency aid.
Germany said the conference, which it is hosting as part of its year-long G7 presidency, aims to develop a "Marshall Plan" for Ukraine.
Liam JamesOctober 25, 2022 10:20 am
1666692251
Car bomb injures five in Melitopol under Russian occupation – reports
A car explosion near the office of a television station in Russian-occupied Melitopol injured at least five people, officials said.
The city's Russian-controlled administration's Telegram channel said the blast hit the building of ZaMedia – a Russian propaganda broadcaster.
The Telegram post said: "The shock wave in the multi-storey building destroyed windows and interior doors. Nearby residential buildings and a passing car at the time of the explosion were also damaged.
"Five people were slightly injured, including employees of the press holding company, one was hospitalized.
"The TV channel and the radio studio continue their work."
Ivan Fedorov, the Ukrainian mayor-elect of Melitopol, also reported the explosion. He shared the photos below in a post about the explosion.
Liam JamesOctober 25, 2022 11:04 am
1666694191
Italy won't give in to Putin's blackmail, says new prime minister
Italy's new government will support Ukraine and not give in to Vladimir Putin's 'blackmail', Italy's new Prime Minister Giorgia Meloni told parliament today.
Ms Meloni's right-wing government took office over the weekend and moved quickly to dispel fears it would hijack Italy from Europe's united front against Russia.
"Caving in to Putin's energy blackmail wouldn't solve the problem, it would exacerbate it by opening the door to new demands and blackmail," Ms Meloni said in her maiden speech to the lower house of government.
She added that her government, which was sworn in over the weekend, would seek to increase financial support for families and businesses affected by the energy crisis.
Liam JamesOctober 25, 2022 11:36 am
1666696723
War in Ukraine 'must be taken to conclusion', says Rishi Sunak
Britain's new Prime Minister Rishi Sunak has said the war in Ukraine must be carried through to its conclusion, while reiterating Britain's support for Kyiv's defense against Russian invasion.
Mr Sunak also said his domestic position was made more difficult due to the energy crisis caused by the Russian invasion.
French President Emmanuel Macron congratulated Mr Sunak on becoming the new prime minister and said he would seek to work with him on common challenges such as the war in Ukraine.
Liam JamesOctober 25, 2022 12:18 p.m.
1666699444
Norway arrests suspected Russian spy
Norwegian police arrested a suspected Russian spy in the Arctic city of Tromsoe on Monday, state broadcaster NRK reported today, citing the Nordic country's PST security service.
NRK reported that the PST said it believed a Brazilian researcher at the University of Tromso was actually a Russian citizen working for the Kremlin.
Liam JamesOctober 25, 2022 1:04 p.m.
1666701394
Zelensky congratulates Rishi Sunak
Ukrainian President congratulated Rishi Sunak on his appointment as Prime Minister.
In a tweet, Volodymyr Zelensky said: "Congratulations to Rishi Sunak on taking office as Prime Minister!
"I wish you success in overcoming all the challenges facing British society and the whole world today.
"I am ready to continue to strengthen the strategic partnership together!
During the Conservative Party leadership race, Ukraine made no secret of its desire for the return of former Prime Minister Boris Johnson, who fiercely supported Kyiv's struggle against Russia.
Liam JamesOctober 25, 2022 1:36 p.m.