Updates from the Russian-Ukrainian crisis | July 13, 2022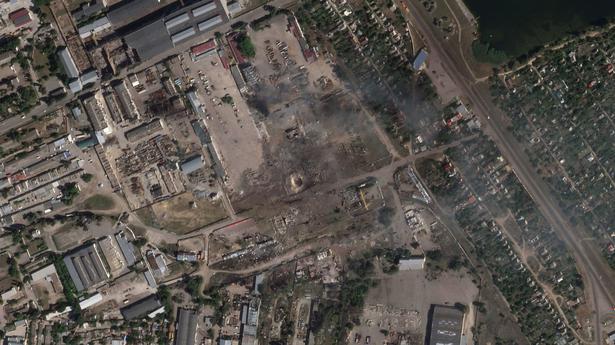 Here are the latest developments in the ongoing Russian-Ukrainian conflict on July 13

Here are the latest developments in the ongoing Russian-Ukrainian conflict on July 13

Ukraine launched long-range rocket attacks against Russian forces in southern Ukraine and destroyed an ammunition store, its military said, as Russia continued to shell the east of the country.
The attack on Nova Kakhovka in the Kherson region left 52 dead, the Ukrainian army announced on Tuesday. Russian-installed city authorities said at least seven people had been killed and around 70 injured, Russia TASS reports the news agency.
"Based on the results of our rocket and artillery units, the enemy lost 5️2 (people), one Msta-B howitzer, one mortar and seven armored and other vehicles, as well as an ammunition depot in Nova Kakhovka," the Southern Ukrainian military command said. said in the statement.
Pro-Russian officials said the strike killed civilians.
Since Russia launched what it calls a special operation in February to demilitarize Ukraine, cities have been burned to the ground, thousands have been killed and millions displaced. Ukraine and its Western allies say Russia is engaged in an unprovoked land grab.
Russian forces have seized much of the territory in southern Ukraine and are waging a war of attrition in Donbass, the industrial heartland of the east made up of the provinces of Lugansk and Donetsk.
Here are the latest updates
Kyiv
Heavy Russian shelling kills 5 civilians and injures 18

New Russian artillery barrages across Ukraine have killed at least five civilians and injured 18 others in the past day, the Ukrainian president's office reported on Wednesday as Moscow tried to expand and consolidate its gains in the east of the country.
Most of the deaths have occurred in Donetsk province, which is part of an area where pro-Russian separatists have fought for eight years and which the Kremlin intends to capture. The town of Bakhmut has faced particularly heavy shelling as the Russian offensive is now concentrated, Donetsk administrative head Pavlo Kyrylenko said.
In adjacent Luhansk province, which Russian and separatist forces have all but conquered, Ukrainian soldiers fought to retain control of two outlying villages amid shelling, Governor Serhiy Haidai said.
Luhansk and Donetsk together form Ukraine's Donbass region, a predominantly Russian-speaking region of steelworks, mines and other industries vital to the economy.
The Russians are "deliberately reducing the Donbass to ashes, and there will be no one left on the captured territories," Haidai said. – PA
MOSCOW
Kremlin spokesman accused of criticizing Ukraine fighting

Russian prosecutors on Tuesday initiated criminal charges against another opposition figure who criticized Russia's military campaign in Ukraine, his lawyer said.
Ilya Yashin was to be released after spending 15 days in jail for disobeying the police.
Instead, Yashin was charged under a new law making it a crime to spread false information about the military, his lawyer, Vadim Prokhorov, said.
He is liable to a sentence of up to 15 years in prison. -PTI
ISTANBUL
Russian and Ukrainian military prepare to discuss grain exports

Russian and Ukrainian military officials were due to hold their governments' first face-to-face talks in months on Wednesday during a session in Istanbul on a United Nations plan to export stranded Ukrainian grain to world markets via sea. Black.
Turkish military officials and UN representatives also planned to participate in the discussion focused on finding a way to move millions of tons of grain stored in silos during the war in Ukraine from the country's ports to the Mediterranean.
Ukraine is one of the world's largest exporters of wheat, maize and sunflower oil, but Russia's invasion and war have disrupted production and halted shipments, putting food supplies at risk many developing countries, particularly in Africa, and contributing to rising prices.
Turkey has offered to provide safe corridors for the Black Sea and has worked with the UN, Russia and Ukraine to reach an agreement. The UN would establish a center in Istanbul to monitor shipments, Turkish officials said. – PA
NEW YORK
Barclays Research takes stock of the effects of war

The pandemic and the war in Ukraine have forced European states into more fiscal and policy cooperation, according to the 67th edition of Barclays Research's Equity Gilt Study. This cooperation, he said, includes a common diplomacy and defense policy, as well as a common energy policy.
Barclays analysts note that the war is leading governments and companies to re-examine the resilience of their supply chains and other economic ties. This could lead to at least a partial reversal of the multi-decade trend of globalization. – PA
JAKARTA
G20 host Indonesia hopes for progress in talks with finance chief despite wartime friction

G20 financial leaders will meet in Bali this week for talks that are expected to include issues such as global food security and soaring inflation, as Indonesia tries to ensure that friction over the war in Ukraine do not derail the talks.
Russia's invasion of Ukraine overshadowed a meeting of foreign ministers from the Group of 20 major economies last week, as Russia's top diplomat walked out of a meeting and accused the West of 'frenzied criticism ".
Indonesia hopes to issue a statement when the talks end on Saturday, although its central bank governor has said the meeting will be summed up in a presidential statement if that is not possible.
"We hope for the best, but of course we prepare for the worst," Indonesian central bank governor Perry Warjiyo said. -Reuter
Kyiv
52 dead in the attack on a Russian ammunition depot in the south

Ukraine's military on Tuesday reported destroying a Russian ammunition depot in southern Ukraine, resulting in a massive explosion captured on social media, while rescuers said the death toll in a Russian strike the weekend in the east of the country had risen to 52.
A rocket strike overnight targeted the Russian-held Nova Kakhovka depot, the Ukrainian army's southern command said. Nova Kakhovka lies about 55 kilometers (35 miles) east of the Black Sea port city of Kherson, which is also occupied by Russian forces.
The accuracy of the strike suggested that Ukrainian forces used US-supplied High Mobility Multiple Launch Artillery Rocket Systems, or HIMARS. Ukraine has indicated in recent days that it may launch a counter-offensive to reclaim territory in the south as Russia bombards the eastern region of Donbass. – PA
WASHINGTON
US and allies aim to cap Russian oil prices to prevent invasion

With thousands of sanctions already imposed on Russia to flatten its economy, the United States and its allies are working on new measures to starve the Russian war machine while preventing the price of oil and gasoline from skyrocketing. at levels that could crush the global economy.
The main pillar of the Kremlin's financial revenue – oil – has kept Russia's economy afloat despite export bans, sanctions and central bank asset freezes. The United States' European allies plan to follow the Biden administration and take steps to stop their use of Russian oil by the end of this year, a move that some economists say could lead to lower global oil supply and drive prices up to $200. a barrel.
This risk causes the United States and its allies to seek to establish a cartel of buyers to control the price of Russian oil. The leaders of the Group of Seven have tentatively agreed to back a cap on the price of Russian oil. In simple terms, the participating countries would agree to buy the oil at a price lower than the market price.
The idea behind the cap is to lower gasoline prices for consumers and help end the war in Ukraine. However, China and India, two countries that maintained business relations with Russia during the war, will have to follow suit. The administration is confident that China and India, which are already buying from Russia at discounted prices, can be induced to adopt the price cap plan. – PA
SYDNEY
Germany will stop buying Russian coal on August 1 and oil on December 31

Germany will completely stop buying Russian coal on August 1 and Russian oil on December 31, marking a major shift in the country's energy supply source, Deputy Finance Minister Joerg Kukies said at a meeting. conference in Sydney.
The main challenge ahead will be to fill the huge void that will remain when the The European Union is weaning itself the 158 billion cubic meters (bcm) per year of gas that Russia supplies, Mr Kukies said. -Reuter
WASHINGTON
Ukraine receives $1.7 billion in aid to pay healthcare workers

Ukraine is receiving an additional $1.7 billion in aid from the United States government and the World Bank to pay the salaries of its beleaguered health care workers and provide other essential services.
Money coming Tuesday from the U.S. Agency for International Development, the Treasury Department and the World Bank is intended to ease the acute budget deficit caused by Russian President Vladimir Putin's "brutal war of aggression", said the United States Agency for International Development (USAID). said in a statement. – PA
MOSCOW
Putin to visit Iran next week

Russian President Vladimir Putin will visit Iran next week, the Kremlin announced on Tuesday, a day after the United States warned that Tehran could provide Moscow with drones for its action in Ukraine.
During a trip to Tehran next Tuesday, Putin will take part in a trilateral meeting with Iranian and Turkish leaders, the so-called Astana format of meetings for the Syria-related talks, the Kremlin spokesman said, Dmitry Peskov.
Mr Putin's visit to Iran will follow US President Joe Biden's trip to Israel and Saudi Arabia this week, where Iran's nuclear program and "malicious activities" in the region will be a key topic of discussion.
Mr. Peskov told reporters that during the visit to Tehran, Mr. Putin will also have a separate meeting with Turkish President Recep Tayyip Erdogan.